It is an impressive list; inline skaters who switched from wheels to blades and became very successful: Chad Hedrick, Derek Parra, Jennifer Rodriquez, Brittany Bowe, Peter Michael, Bart Swings, Joey Mantia, and closer to our home in the Netherlands, Mark Tuitert, Koen Verweij and the brothers Michel and Ronald Mulder. They are examples of a growing contingent of inline skaters that seemingly out of nowhere started to dominate on the ice. You would think that a combination of both sports is the key to success, but many coaches are skeptical. Inline skating disturbs the skating technique, habits you picked up on wheels are hard to break, criticasters say. Former inline and speed skating world champions Michel Mulder and Joey Mantia have a different opinion. "I've always combined both sports," says Michel Mulder. "I totally disagree with coaches who say that one comes to the expenses of the other."

Technique | Boots | Push-off | Top-level | Habits | Young Skaters | Mental

Inline-skating and speed skating a bad combination? 
He wanted to refine his inline skating technique and hoped to do that on the ice. It was American KC Boutiette who thought he could spend some time on the ice to become a better inline skater. A year later, he made the Olympic team in Hamar and twenty years later, he retired. As a speed skater! In his slipstream, a lot of inline skaters followed. What also followed was a discussion that flares up now and then. Isn't inline skating bad for ice skating? To understand this question it is important to identify the differences in technique between those two sports.  
Skate boot versus inline-skate boot
If you compare a modern inline-skate boot with a skate boot, you will notice one thing immediately: an inline-skate boot is higher and more robust, while a skate boot is more slender and aerodynamic. Take a look at the Cádomotus Balance-boot en de Cádomotus Ci1 iD Inline boot: it is not difficult to see the differences.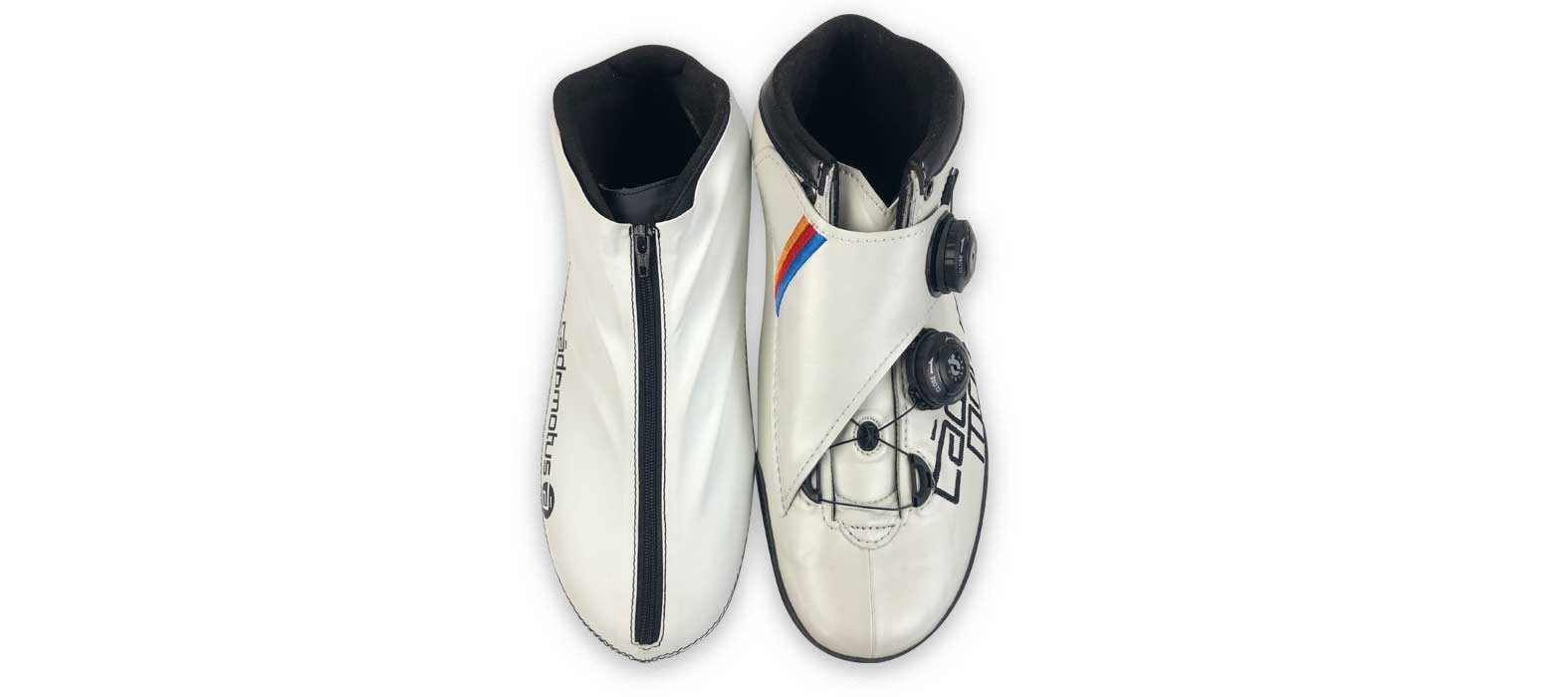 The Cádomotus Balance-ice speedskating boot and the Cádomotus Ci1 iD-inline racing boot
Inline skates and speed skates have a different look because of the differences in technique between both sports. It is something that Cádomotus has a focus on when designing boots. Why? Let us explain. When you skate on ice, you build pressure during the push-off. If you maintain a low body position you can stretch out your legs further and develop more speed. When you have a low body position, it is easier to lock your ankles, something you don't need in inline skating, which is more dynamic. You don't need a lot of support around the ankle, that's why a skate boot is lower than an inline-skate boot where you do need that support. 


A different push-off
In inline skating, you want to give more pressure at the beginning of the push-off. Stretching out your leg is not a great idea. If you stretch out too far, your wheels lose grip. Ice skating is different because your blade will cut through the ice. You can put all your weight into the push-off, stretch out your leg and develop more speed. If you do that on your inline skates, you will lose grip further on in your push-off. As a result, your push-off as an inline skater is significantly shorter, and your body position has to be less low. Inline skating technique was developed from there: you make sure there is a lot of pressure at the beginning of the push-off. To optimize this, you will put your pressure inwards at first and outwards towards the end. Insiders know that this is called the double-push. Our Ci1 iD boot is developed to accommodate the double push. There is a lot of support around the ankle, and the control and power transmission are optimal. The skate boot has a more subtle look and is also designed to give you a better 'feel' for the ice.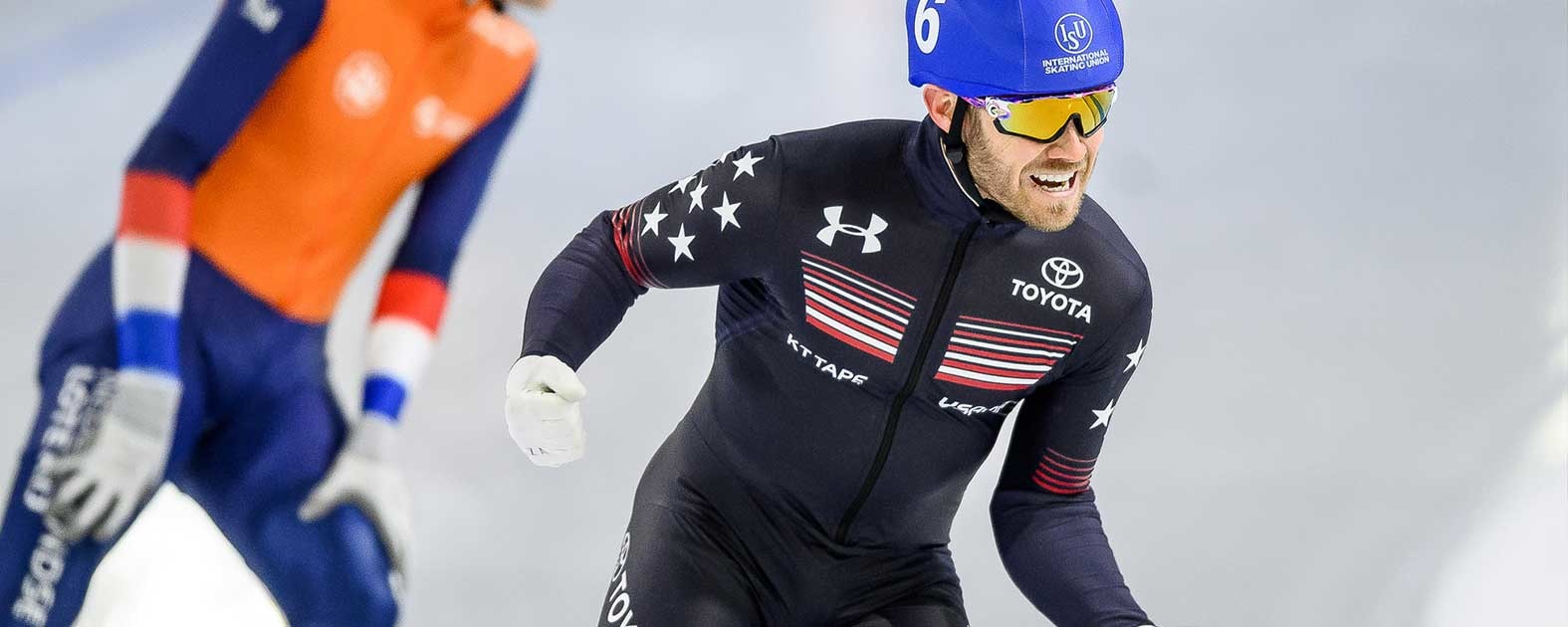 28-time world champion inline speed skating Joey Mantia, ISU World Champion Mass Start (Heerenveen 2021) ice speedskating
Combining inline skating and skating at a top-level
Many traditional skate coaches find the short and powerful double push, combined with a higher body position, problematic. If you use this technique in ice skating, it will be less efficient, they think. Should speed skaters abandon inline skating? Speed skating and inline skating world champion Michel Mulder had several discussions about this with his coach Gerard van Velde. "Those talks weren't easy," he says. What helped was that Mulder showed early on that a combination of the two sports worked out pretty well for him. "I won in 2011 in Korea a bronze medal at the world championships as an inline skater, and seven weeks later, I finished second at the national championships speed skating. A year later, I could say: "It worked. Let's do it again."
He has been criticized for combining the two sports.  Inline skating wouldn't do him any good as a speed skater. But when he just focused on speed skating, that didn't work out too well. "It is very personal. Not everyone can do well in both sports. But for me, it wasn't a problem. My speed skating got better when I picked up inline skating again. It turned out that my summer program, doing inline skating, works very well for me."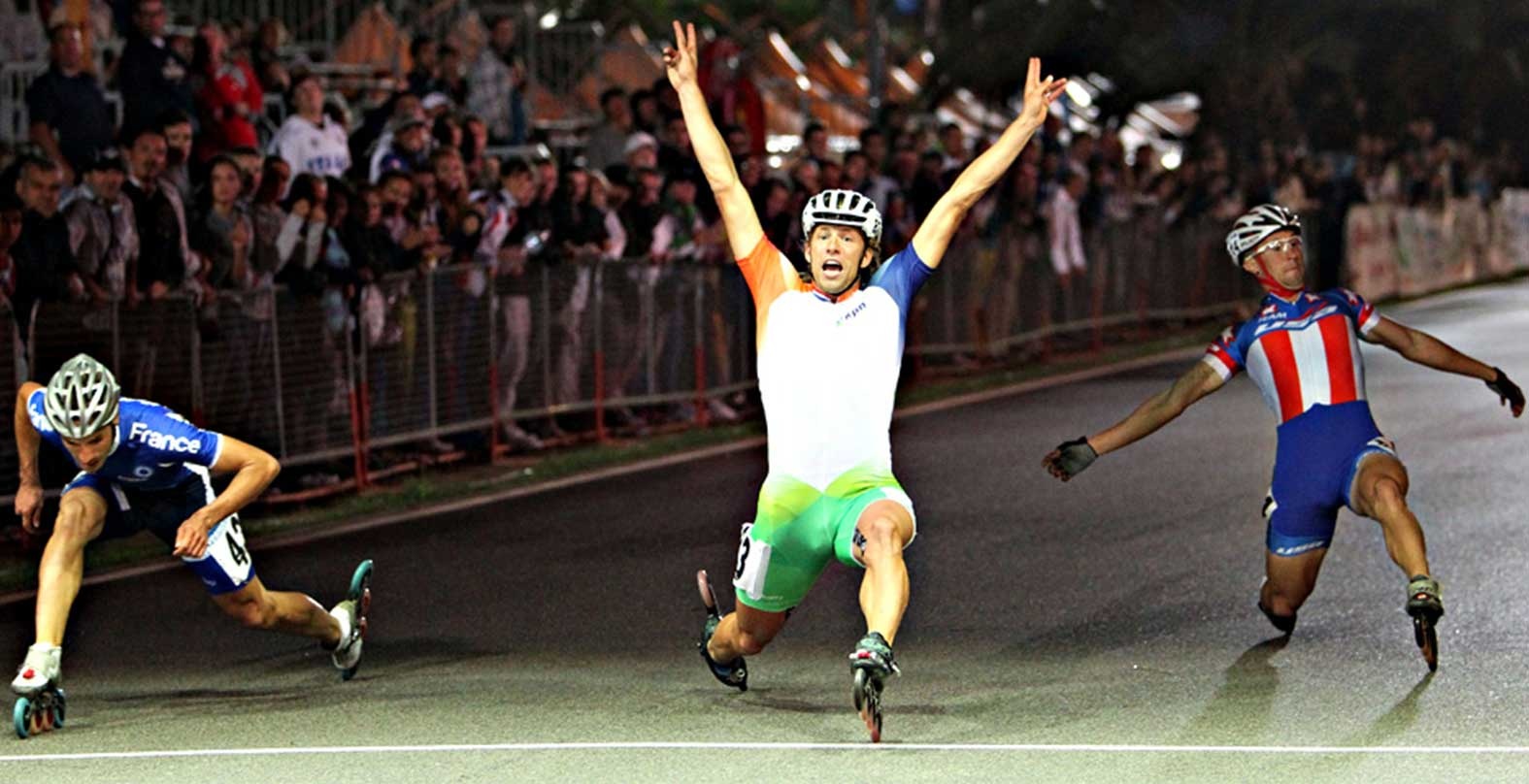 Michel Mulder became world champion inline skating at the 500 meters in Ascoli, Italy, in 2012. Two years later became the Olympic champion in Sotchi 2014 on the 500 meters.
Breaking habits from inline
Inline-skate legend and three-time mass start world champion Joey Mantia doesn't see any problems in the combination. He has a practical reason for focussing only on speed skating for now. "When I moved to Salt Lake City, there was no track, no indoor skating facility there, all the things I need to compete on a high level. That's why inline-skating has taken a back seat right now. But I will still go out for a ride, trying to double push and not letting my speed skating technique get in the way. I don't feel that inline-skating has a negative effect on my speed skate performance. I think that my skating technique is very balanced. I don't think you can say that you can't combine speed skating with inline skating, or the other way around."
He does admit that it took him almost ten years to break persistent habits when he switched to speed skating, but that was also because he didn't grow up in skating. "When I did inline-skating, I hardly had to think about my technique. That happened naturally. I think that's why I struggled to be consistent for a few years. When I was relaxed and did what came naturally to me, it was not the best for speed skating. It is definitely different when you started speed skating at a younger age and then started inline skating. Or when you grew up doing both sports."
Michel Mulder is someone who combined inline skating with speed skating and learned how to distinguish the inline skate technique from the speed skate technique. "I think that inline skating makes you very agile, it worked like that for me anyway," he says. "I like the fact that you have people around you in races, that's different with speed skating unless you go for the mass start. The technique is different, but you will get super agile. You will benefit from that on the ice. I also appreciated the fact that I work constantly on my skills in summer as well."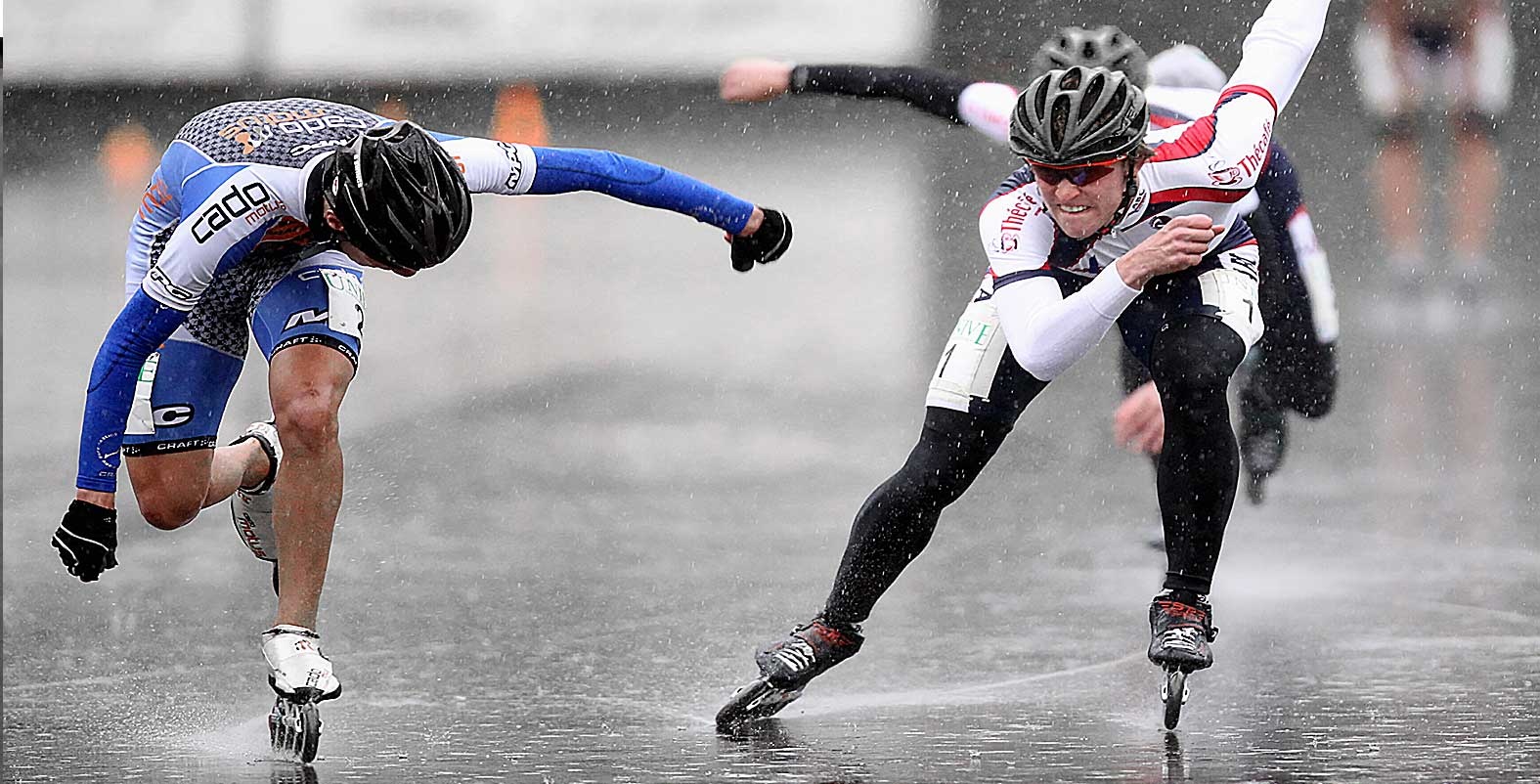 The brothers Michel and Ronald Mulder are competing against Bart Swings at the inline skate track in Heerde, the Netherlands, during the Europe Inline Cup 2009
Young athletes profit from the combination
Michel Mulder doesn't think that inline skating has a bad influence on young skaters and their skating technique. "Kids can learn so much," he explains. "I think it's nonsense that they can't do both. It is good to challenge Young kids to do new things. You will only benefit from that, whatever sport you choose to do. As a PE teacher, I like to see kids do or play multiple sports. It is good to have a greater variety of movement skills, even if those skills have nothing to do with skating. It makes you a more rounded athlete. I totally disagree with coaches who say that one thing comes to the expense of another. What are we talking about here? I've always combined those two sports, and there are many more examples."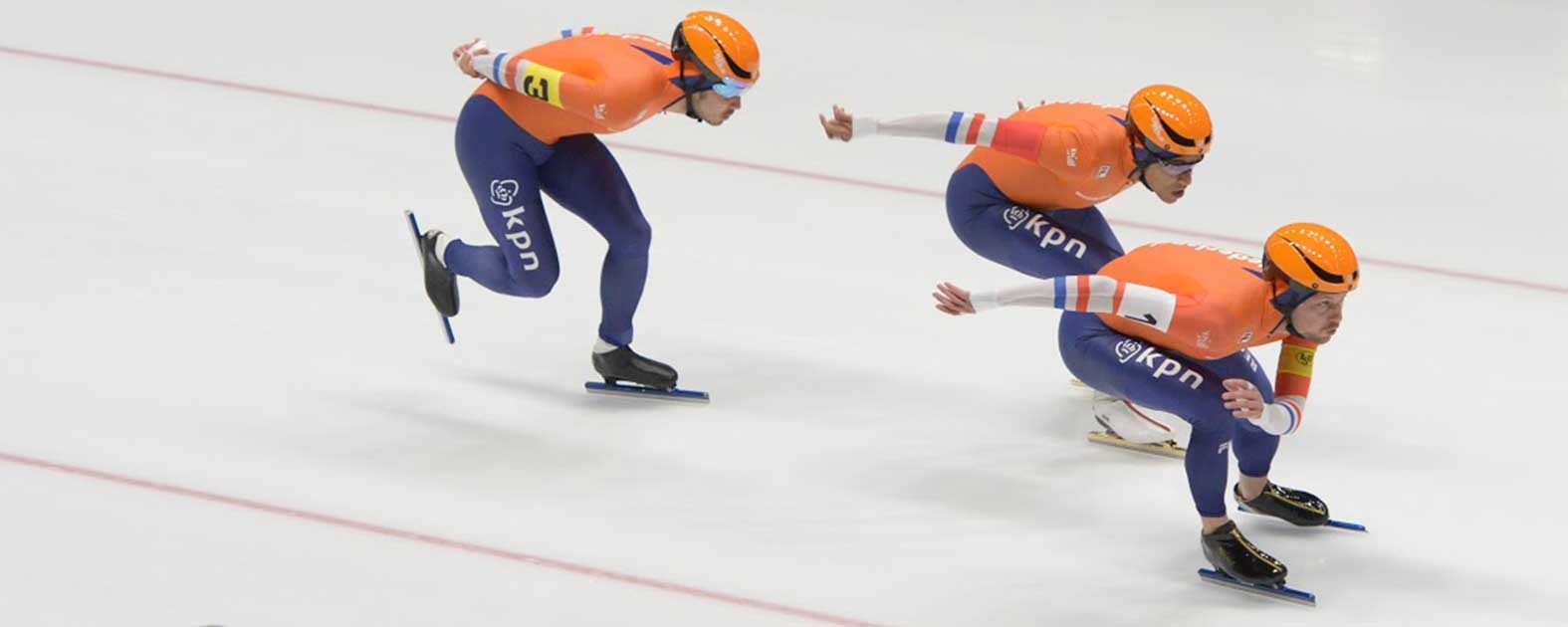 Michel Mulder in the lead in the Team Sprint during the ISU World Cup speed skating
 "Inline-skating is so much more fun than speed skating," says Mantia. It is that experience that counts, he thinks. "You can go out on your inline skates. Go out in nature, make a loop in the sun. To me, that is such a fun experience. I would have never switched to speed skating if I didn't come to a point in my career when I had the feeling that I'd done everything. I was at the top for 5, 6 years, and I felt I was repeating myself".  Michel felt the competition element in inline-skating helped him in speed skating. "Those races in the summer were very motivating for me. I can't get the same effect by training alone. When I am only preparing for races in the summer, I miss half a year of competition. You can simulate races, and we did, but I felt I needed real competition. I felt I was better prepared because of the inline-skating-races. Those are intervals on a high level."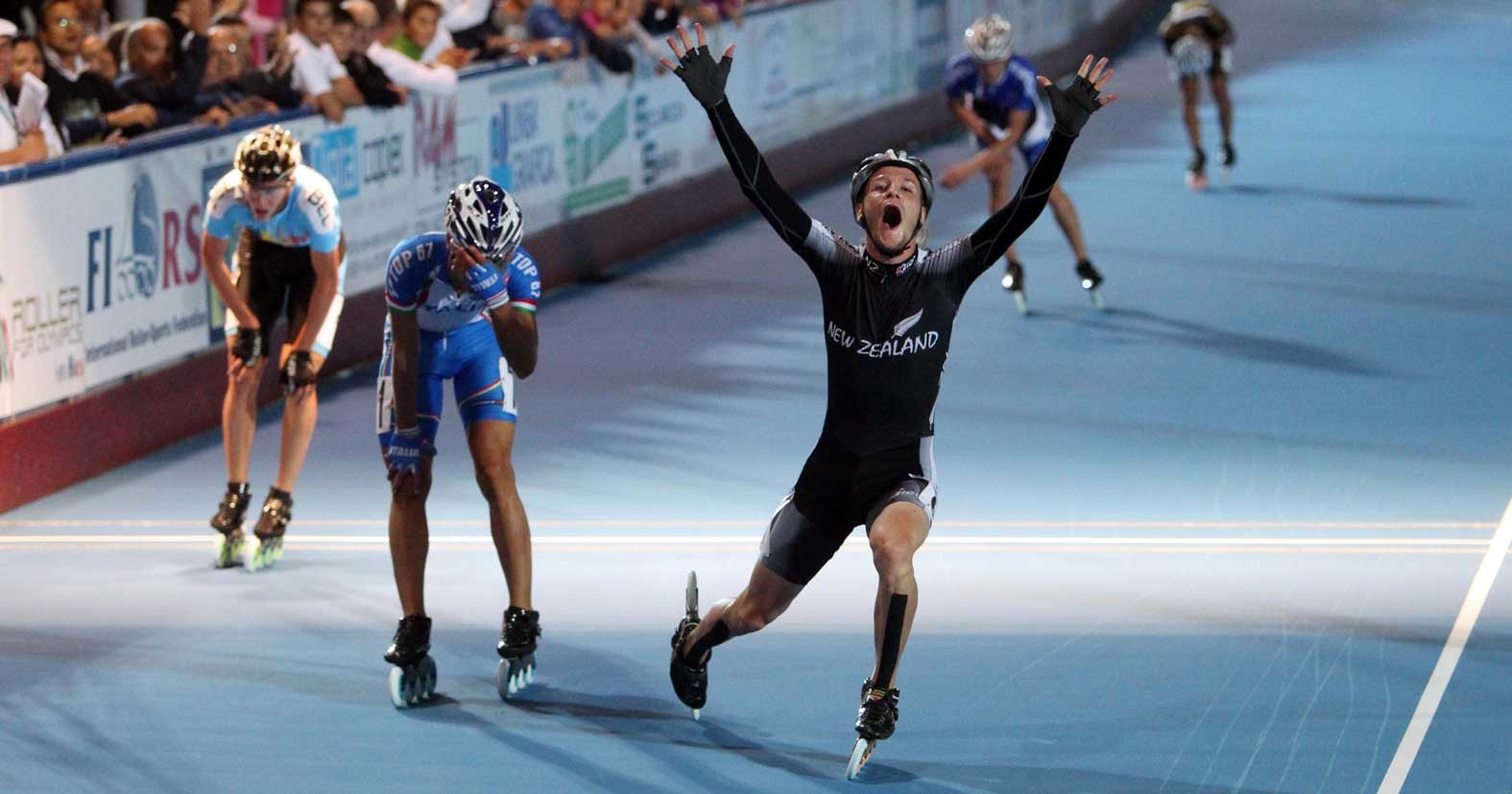 Peter Michael becomes World champion inline-skating by beating Fabio Francolini and Bart Swings at the 1000m in Ascoli 2021


The mental advantage for inline skaters
Mantia also thinks that inline-skate competition, the ability to push yourself, is valuable. "There is such a competitive force in inline-skating, it's different on the ice," Mantia continues. "Speed skating is tougher on your body, as far as lactic acid building. It is harder in your muscles, but inline skaters can tolerate pain better. I am not sure why that is, maybe it has something to do with breathing, or it is mentally or a combination of both. It is a different pain where you have to push yourself through. That's why inline-skaters who switch to speed skating can become successful in speed skating pretty fast. Some hit a plateau after that, but some breakthrough and become world-class speed skaters and even world or Olympic champions. It is an important factor that inline-skaters can push through the pain. Peter Michael is a good example of that."  
Bottom line is that both athletes had a lot of fun in inline-skating and look back with a lot of love. For Yoey Mantia his first love is still his biggest love, despite the gold medal he won as a speed skater. "All in all, it is more fun than speed skating. There are more competitors, it is a big sport. I am not a movement scientist, but it is more fun, and I will always choose inline-skating over speed skating." That's not how far Michel will go, but the love for the sport is still deep. "It is such a fun sport, very spectacular," he says. "People might think that I give more value to my speed skate world title, but my inline skate world title means just as much to me."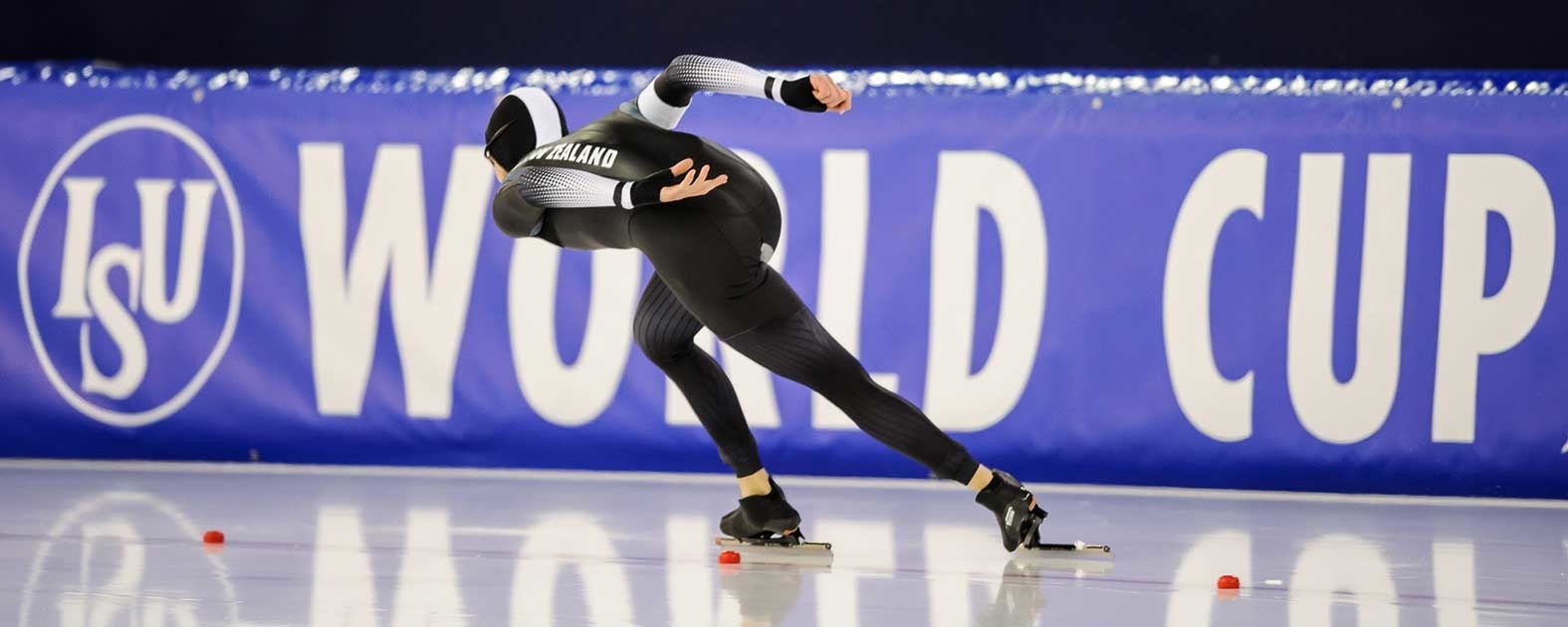 Peter Michael wins the ISU World Cup 5.000m in Astana 2016


Do you want to read more about the differences and similarities between speed skating (clap skates) and inline skating, click here for an article about why you better buy two separate boots for speed skating and inline-skating?
Do you want to be the first to know about the latest Cádomotus products? Are you curious how we do things, or do you want to know what the reasons are for choosing a particular Cádomotus product? Subscribe to our newsletter