Call it knowledge translation or even cross-pollination, but skating technology has found its way into the world of cycling. Elite teams like Dutch Jumbo-Visma and Israel Startup Nation have already taken the plunge with their cycling shoes. For two years now, Cadomotus has been applying the knowledge developed in ice and inline skating to cycling and triathlon. By injecting this cutting-edge technology directly into our cycling shoes, we made our triathlon shoes significantly more performant than the other options on the market, especially in terms of power distribution, efficiency and aerodynamics. And that gives you a lot of considerable advantages as an athlete! Read all about it here.
Speed Skating shoes as a model for stiff cycling shoes
Taking sharp turns at 60 kph, whether on ice skates or rollers, requires a lot from your equipment. With the arrival of clap skates, speeds reached such heights that shoes made of conventional materials like leather were no longer enough to sustain the pressure. Harder and stiffer shoes became essential for balance and responsiveness when skating at such speeds. After all, skates are an extension of the body, they are the medium conveying your energy into the ground and back. Top skaters' strides develop up to 2,200 watts, and this power is then transferred to the ice through a thin blade of 1.1 millimeters. Ice and inline skating shoes equipped with our revolutionary carbon shell sole provide considerably more stability and control to the athlete than the former classic shoes.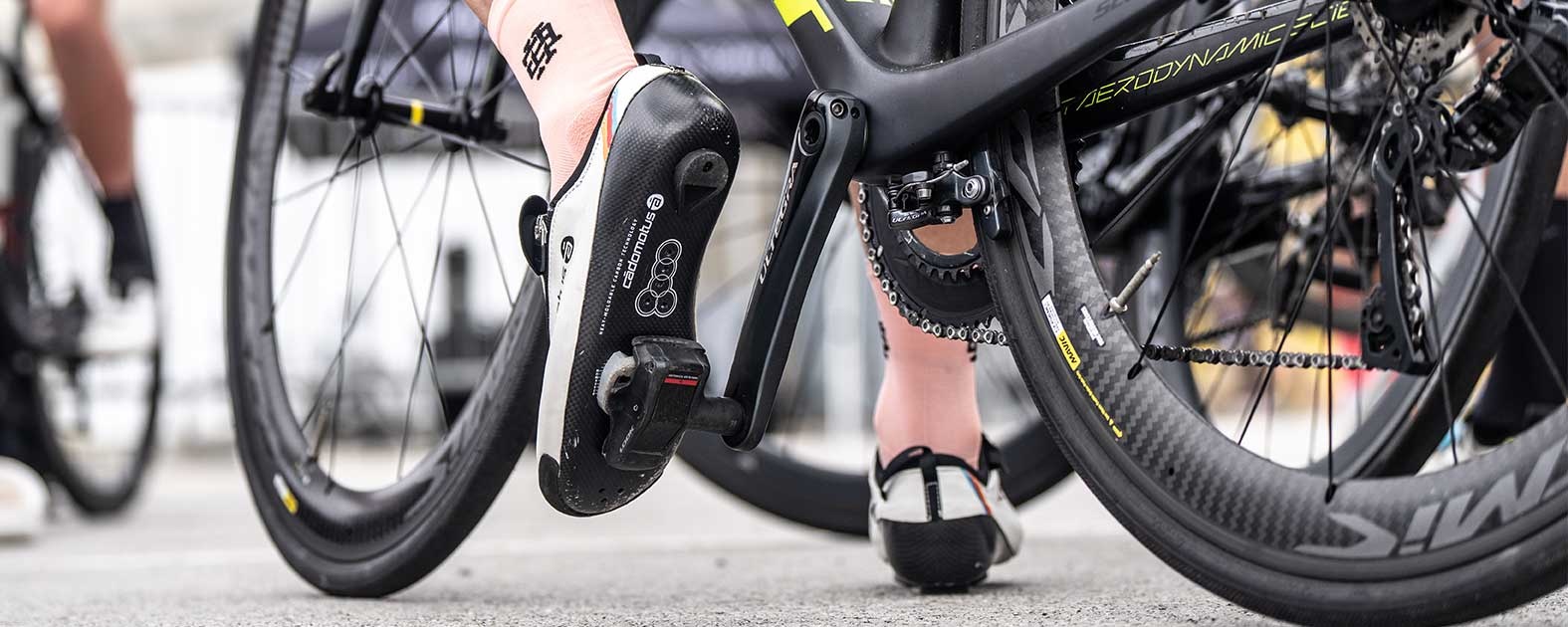 The advent of the carbon shell sole marked the beginning of a development in skating that continues to this day, and that has been echoed in cycling for a few years. Skating manufacturers such as Cadomotus have built up years of expertise in producing shoes that fit so snugly around the foot that hardly any energy is lost.
But what does this alien technology, coming from a different sport, can actually add to cycling and triathlon? Let's do a little bit of anatomy 101. Pronation and supination, both natural movements of the foot, are two key concepts here. Pronation is when your foot tips slightly inwards and supination is the opposite, when your foot tips slightly outwards. However, you don't want your foot to tip if you need stability on skates. A carbon shell sole with a higher heel counter and raised edges wrapped around your foot will prevent those inwards or outwards tipping movements. And this will prove to be much welcome when you have to balance on a 1.1 mm skate blade, or on 125-mm-diameter wheels which develop enormous speeds.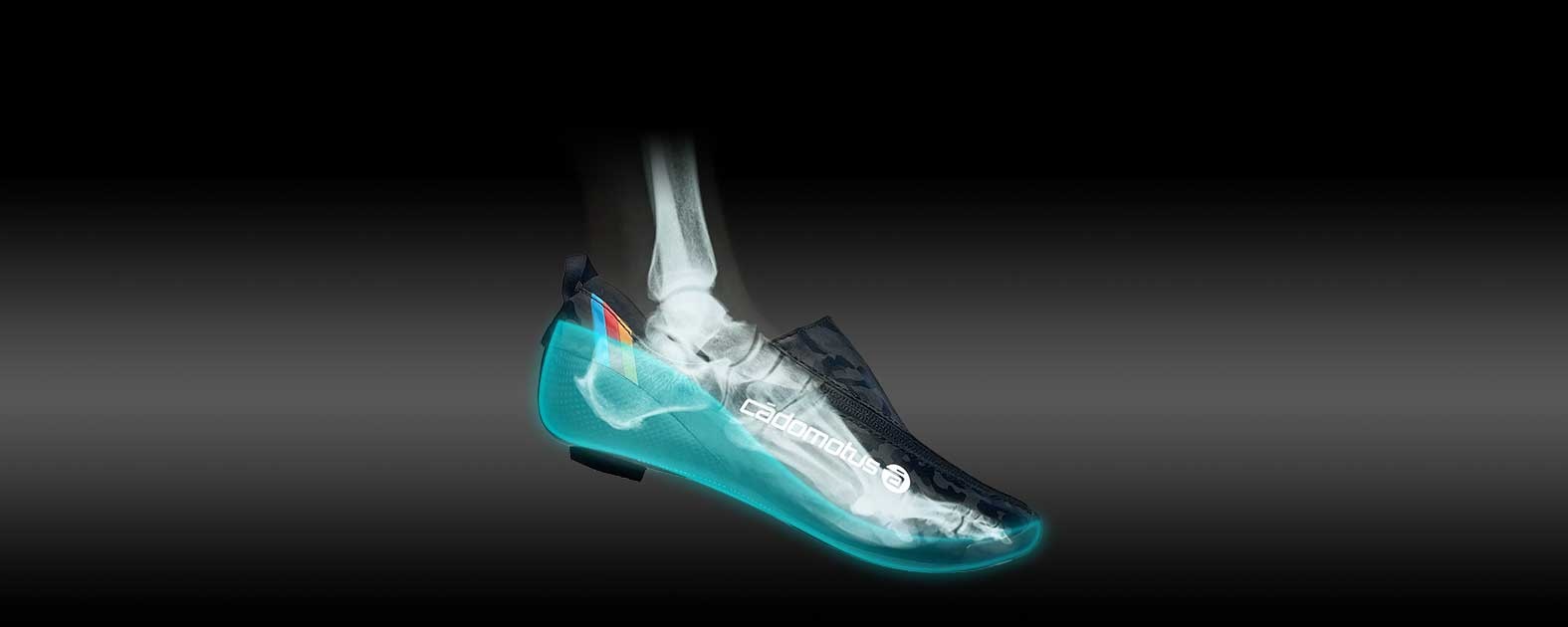 Even on the bike, the carbon shoe delivers tremendous stability
A softer shoe would cause instability, as well as loss of energy... And therein lies the gain for cyclists! A stiff carbon shoe participates in a more efficient power transfer, which you feel almost instantaneously on the bike. As a cyclist you are also disposed to pronation and supination, yet to a lesser extent, but such a stiff shoe eliminates that problem right away and for good. When you pedal uphill, the raised edges of the carbon shell offer a quasi-lossless power transfer to the pedal, contrary to the softer and more flexible standard shoes. The same is also true for sprints: British track cyclists in particular have now experienced and reaped the benefits of those unprecedentedly stiff shoes during sprints. Every little detail can make the difference between winning and losing.
However, the hardness of the carbon shell may come at the expense of comfort. Especially if you, as a cyclist, regularly spend 4 to 5 hours on the bike, comfort is essential and it is one of the reasons why carbon shoes are not yet massively used in cycling. As a solution, Cadomotus' shoes are thermoplastic, which means they can be heat molded to your foot for a perfect fit. Now, not only you have comfort, but you also have extra control and balance, and quasi-lossless power transfer!


Crucial time gains in triathlon thanks to carbon shoes
What most distinguishes Cadomotus from the other pioneering skating carbon shoe manufacturers are our triathlon cycling shoes. In both of our models, the Chronos Aero and the Worldcup T2, everything Cadomotus stands for comes together: decades of accumulated knowledge from inline and ice skating, combined with a creative out-of-the-box mindset. The shoes are developed in cooperation with top triathletes and scientists, which is why we focus on triathletes with our one-of-a-kind shoes.
Stability, as mentioned earlier, and the quasi-lossless power transfer that comes with it, as well as the pedal efficiency and the calf relief brought by the technology, help you tackle the run part, after a top effort of sometimes four to five hours on the bike, with less fatigue and thus fresher. And that, in turn, pays off in what matters the most in a run: time saving!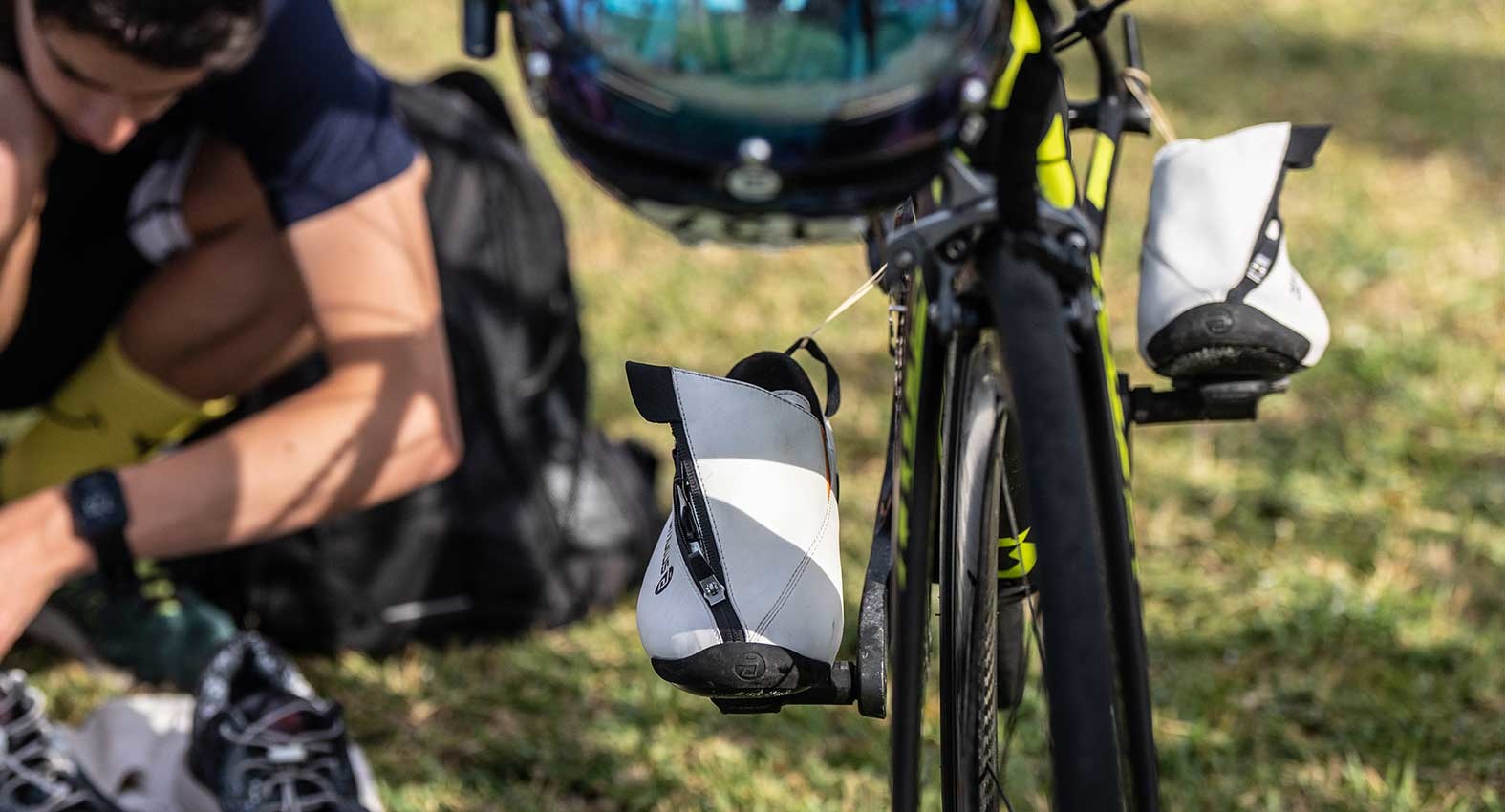 Keep reading if you want to know how the shape of our shoes help you save energy, and learn feedback from the top triathletes and scientists who collaborated on the shoes.
As a triathlete, you know better than anyone how important a quick transition is. You have little to no time to lace up your shoes, especially in the sprint format. And this is where the carbon shell sole offers another big advantage: you don't even need to tie your shoes to have immediate support.
Moreover, the shoes' convenient tongue makes them a breeze to slip on even with wet feet: just fasten a Velcro strap or turn a dial, and once you get going, you can finish to tighten them very easily. Last but not least, with their thin sole – and smooth lace cover for the Chronos –, they have such an aerodynamic design that they make you gain up to 10 watts.
In short, we are now transposing the speed skating know-how and technology that we have benefited from for years to cycling, and more specifically to triathlon, in order to help athletes achieve even better performances. Thanks to our expertise and innovations, our shoes are currently unrivaled in the world of triathlon and extremely competitive in that of cycling.
Undeniably, the ice and inline skating brands that are now focusing on cycling shoes have a considerable advantage over the other brands with their carbon shoes. But what sets Cadomotus apart, even from these brands, is that we have taken development to an even higher level, bearing in mind the triathlete's needs.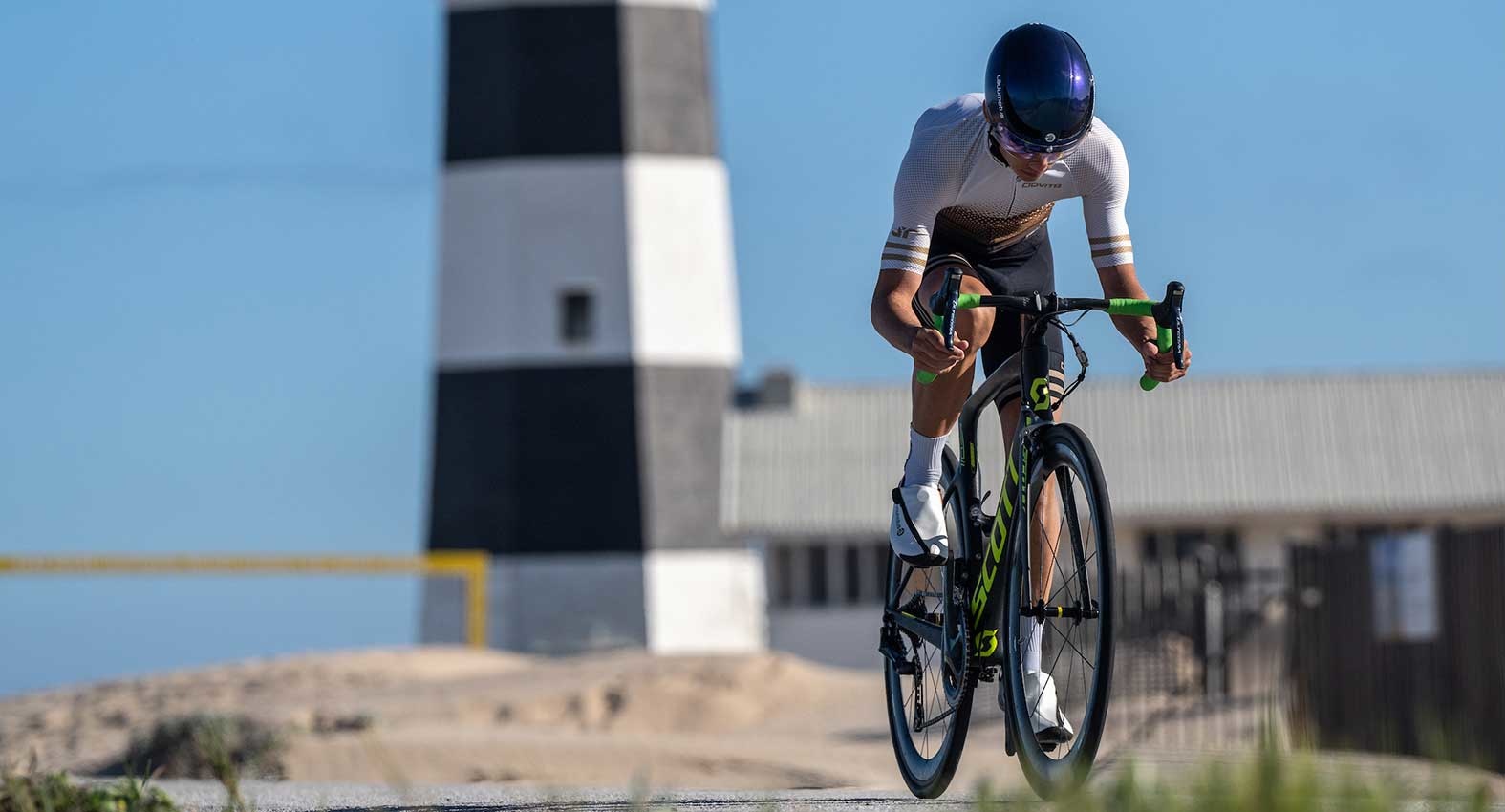 Here is a list of the main advantages of our cycling shoes:
Cadomotus' Chronos Aero and T2 Worldcup cycling shoes are designed specifically for triathlon, solving the challenge of a successful quick transition with single closure systems: one dial closure for the Chronos Aero, or one velcro strap for Worldcup T2. Most cycling shoes, including models from well-known ice skate and roller brands, have two dial closures. The Worldcup shoe also has a high counter at the back, which acts like a very effective shoehorn, allowing your foot to slide right in.
The Cadomotus shoes have an extra loop at the heel for you to mount them on your bike for a jump-start. No more fiddling with rubber bands on laces or other DIY solutions.
The edges of the Cadomotus' carbon shell sole are raised to avoid unwanted pressure points in the shoe. This detail is all the more important as most triathletes cycle barefoot in their shoes, which makes them more prone to blisters.
The Chronos shoe is designed to reduce drag, thanks to its thin sole and smooth lace cover. Because of that cover, its air resistance is 5 to 10 Watts lower.
Cadomotus' Worldcup T2 shoe has a more open upper than regular shoes, which makes a huge difference when transitioning: your foot is in the shoe in a single motion, for a faster switch. Another advantage is that, in these open shoes with optimal ventilation, your feet will dry faster after the swim than in regular closed shoes.