With the Rookie one and Rookie Two, we have brought two children's skates on the market which have set a new standard for speed skating. How were they developed? Why are they so innovative? And what is the difference between the Rookie One and Two? We will answer all these questions.
Cádomotus is always in pursuit of innovation. This means that we don't reason from what we already have, but what we can achieve. That is how we encourage the sport and allow more people to have fun in the world of speed skating.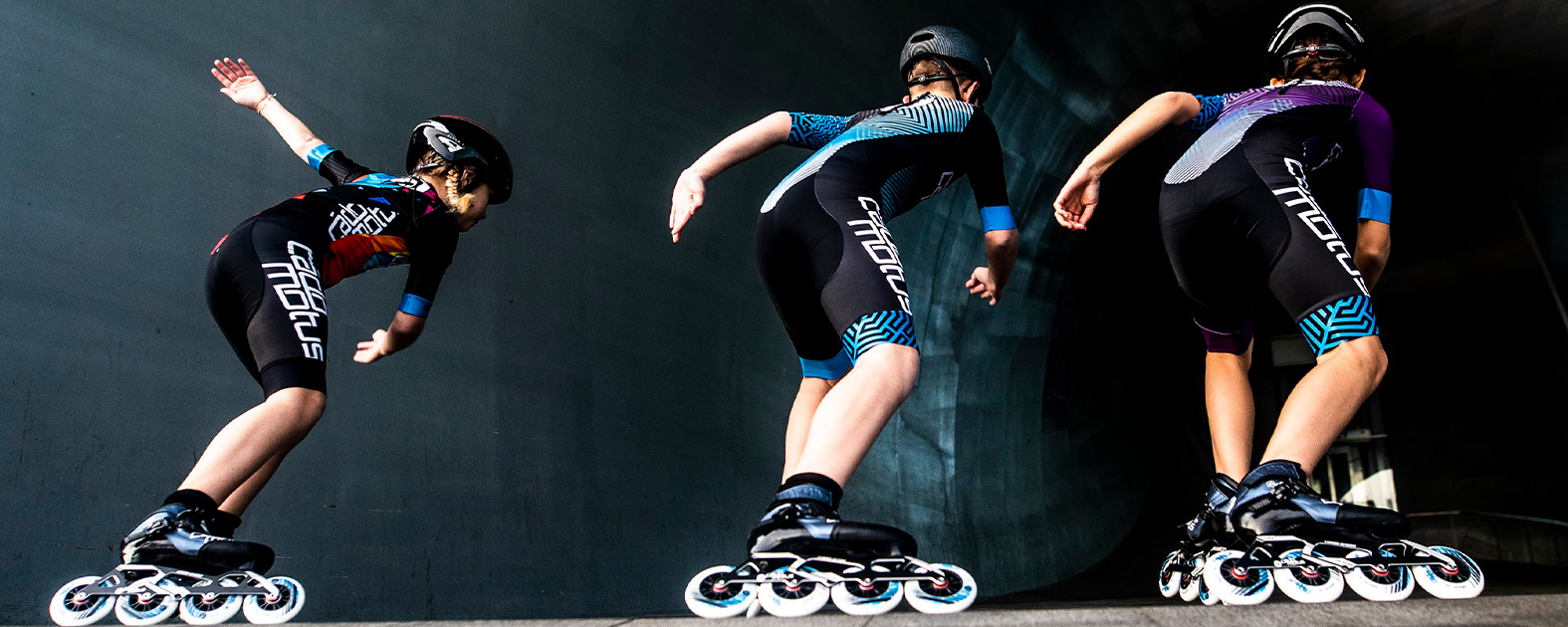 What we were looking for in these two skates
As a parent you know: children grow up fast. Include the cost of sports equipment that continues to rise as well. The idea behind the Rookie One and Two is that your children can wear these skates for one and a half years to two years. And that in the meantime they grow together with the speed and ambition of the child.
1. A long-lasting, stable competition skate.
2. A skate that is compatible with a range of different boot sizes due to our Resizer Insoles 
3. A transformer frame for three or four wheels to enhance your learning.
4. A price that makes speed skating reachable for both children and parents.
When the trend seems that prizes continue and keep on rising, it is Cádomotus that breaks through. We have made a skate of high-quality materials at an affordable price.
Various sizes of feet in one hard shell boot: how?
Our children grow up fast, but you still want that your child skates with high-quality material. If your child outgrows its skates every year, it becomes pricey. Therefore our adjustable skates. Both in shoe size, a number of wheels and wheel size.
The glass fiber shell inline boot
The base is made from fiberglass and is deformable around the most important parts of the foot, especially the ankle. This prevents painful pressure spots and sore ankles. The tight fit ensures lots of control and stabilization when you are skating. If the fit is too tight, you can always deform the boot to make it more comfortable to your liking.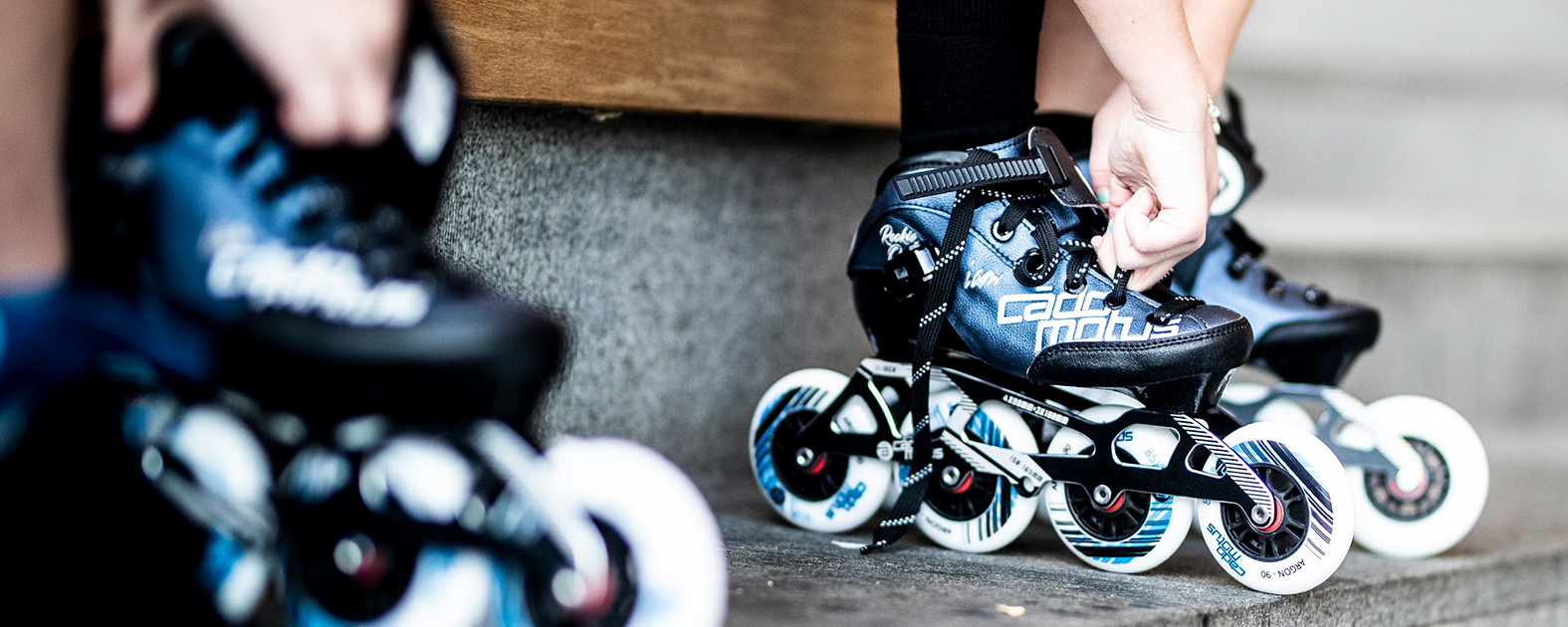 The boot has a classic lacing system. You can also take a double lace, in order that the boot is tighter around the ankle than around the front of the foot. It is important that the ankle is fit tight in the boot. The fit of Cádomotus skating boots has been perfected for years. The skates fit closely, which prevents friction. This is important for the control of the skate. Due to this, you can improve your technique. On the side of the boot is a protective layer, because of this the boot won't get damaged during a crash.
Cádomotus Resizer Insoles: multiple sizes
Have you ever heard of
Cádomotus Resizer Insoles
?  Many children, and especially parents, have become very happy because of them.
The Resizer Insoles have been made very strong and stiff. This way it feels like the real sole of the boot. The insole runs up along the sides. A child that has a size 35 has a narrower foot when he is wearing a size 37. With the edges going up, the insole remains to follow the form of the foot, this ensures that the boot keeps a tight fit. So there is no loss of efficiency and the risk of friction and blisters disappears.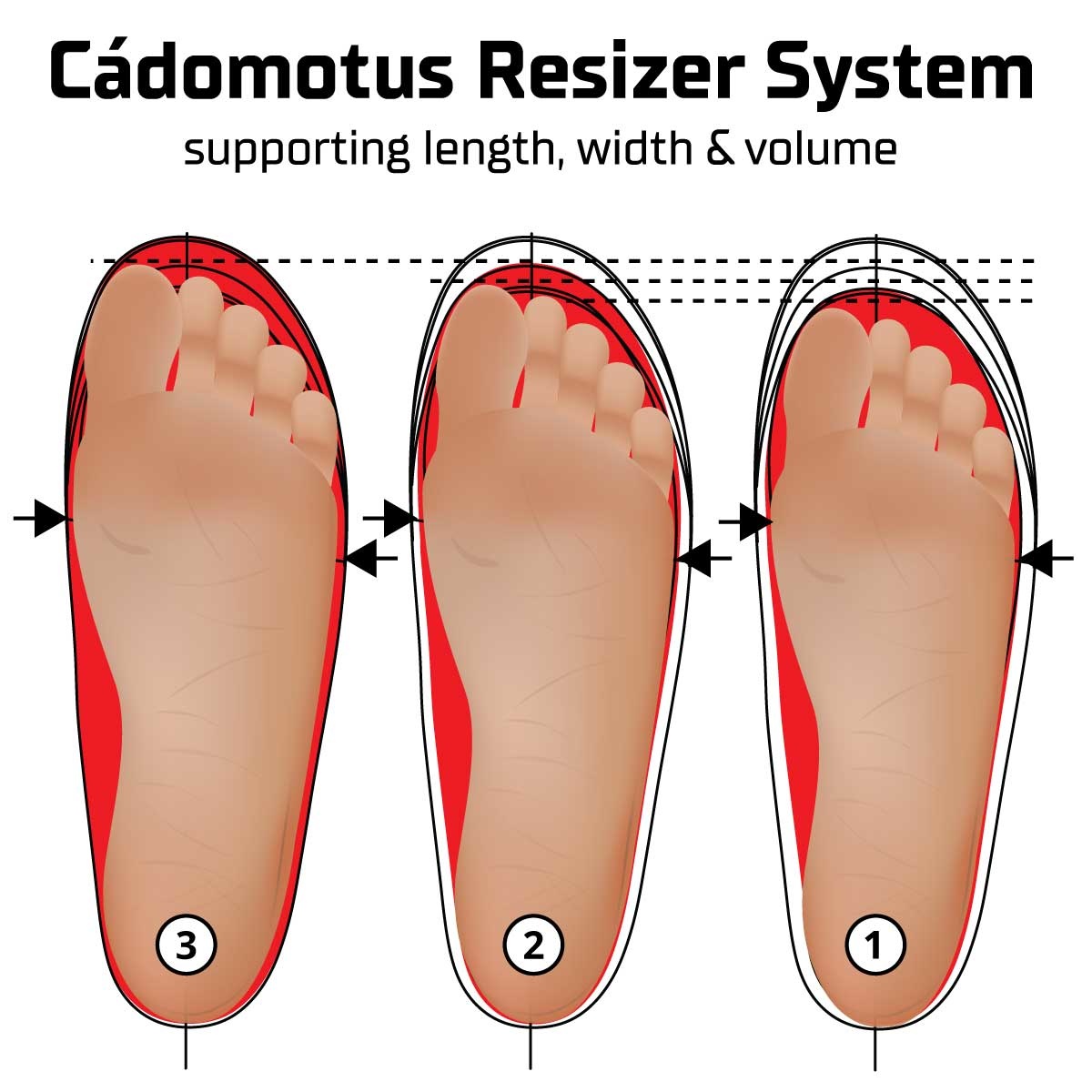 One sole allows for 3 sizes in 1 skate:
Skate size 31 → with the sole this shoe is suitable for a child who has size 29-30
Skate size 34 → with sole suitable for a child with size 32-33
Skate size 37 → with sole this shoe is suitable for a child that has size 35-36
Skate size 40 → the sole of this shoe is suitable for a child wearing size 38-39
A skate with three or four wheels?
Every child is unique and every child has a different learning curve. With this frame you can switch in no time between three and four wheels or the other way around. This gives you for example the chance when you are running a three-wheel-setup to get used to a bigger wheel size. When at first you had to switch from three to four wheels to gain more speed while skating.
Size 31-33: has a 10.0" frame with a 4x84mm wheels. You can switch to a 3x90mm. With an XYZ Resizer Insole, you can change a size 31 into a size 30 or 29!
Size 34-36: has an 11.0" frame with 4x90mm wheels. You can switch to a 3x100mm. With a YS Resizer Insole, you can change a size 34 into a size 33 or 32! 
Size 37-40: has a 12.0" frame with 4x100mm wheels. You can switch to 3x110mm. With a YM Resizer Insole, you can change a size 37 into a size 36 or 35, with a YL from size 40 to a size 39 or even a size 38!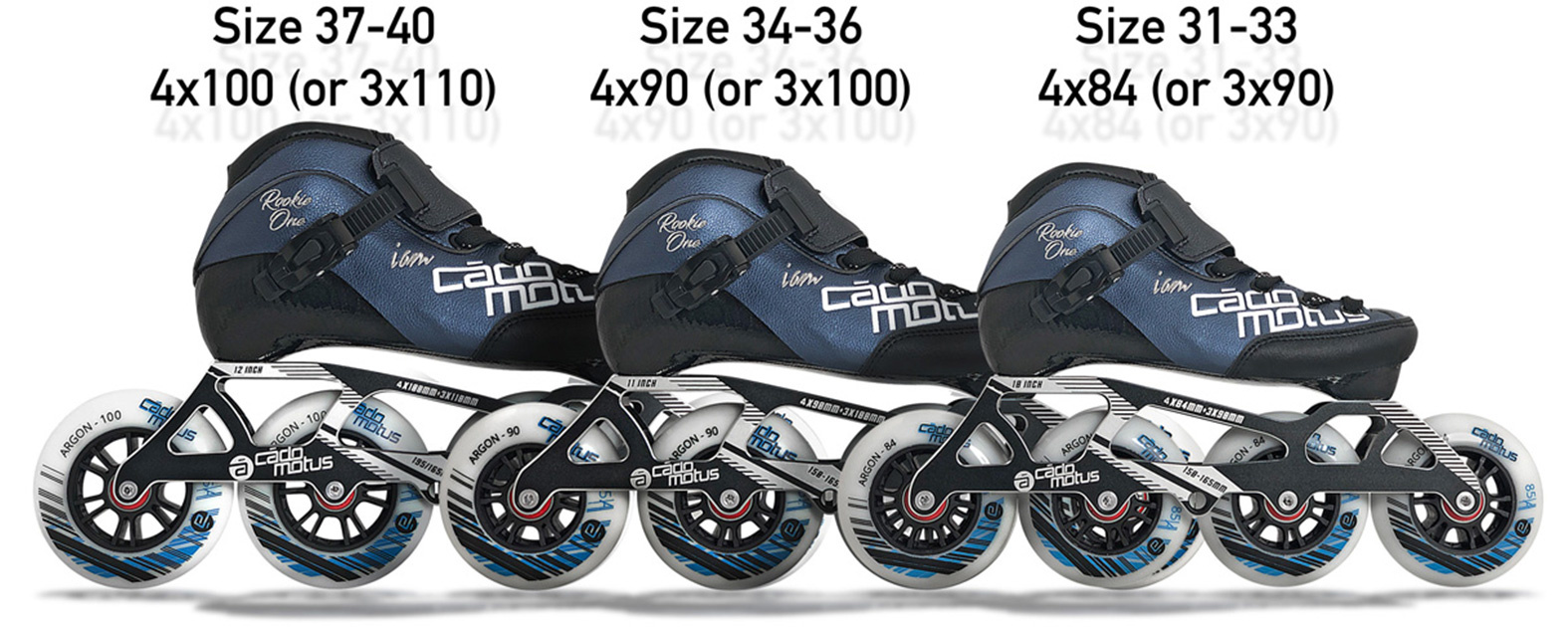 A perfect inline skate for girls
Girls often have a narrower foot. Our boots have an average width. For the largest group of ladies this fits very well. Do you know you have narrow feet ? Prevent that you slide forward in your boots. Even for this problem does the Resizer Insole have a solution to offer.
And also a great inline skate for boys
Boys often have wider foot. In order to prevent that this will cause pinching, you can thermoplastic deform the boot. Namely: you heat them up and stretch them a little bit. This way you get a wider boot.
You can do this yourself
, but we advise to have this done at a skate specialist shop.
Another option is to order a bigger size. You still have some length to work with, but this won't be a problem. The most important thing of all is that the boot has a good fit around the ankle and the foot, for optimal use.

Rookie One and Rookie Two, what is the difference?
Both these skates are equipped exactly the same if It comes to wheels, bearings and frame. The only thing that is different from each other is the hight of the boot. The Rookie One fits right up to the ankles. This gives you more freedom of movement, with more speed as a result. The Rookie Two fits up to over the ankles. This gives you more stability while skating. Ideal if you want comfort or simply are in need of more support.
- Low height boot

 

- Boot with extra support around the ankles

 

- Ideal for skaters who are stable

on their skates and want to sit deeper

in order to go faster.

- Comfort, stability, and control

for beginners or young children that want to

skate with a speed club

- Your progress is not restricted!

 

- Next step is a lower boot which gives

more freedom of movement

 

 

319,00€

319,00€