Most people find new skates by word of mouth, or podium envy. Fellow speed skaters, coaches, dealers and online retailers can make referrals, but you really need to know what you're looking for to find a pair that's right for you. Especially if you're just starting out, and even more so if you're too young to know the difference between carbon fiber and cotton fiber. If you're looking for a quality pair of starter skates, we got some suggestions that should help you find the right pair for yourself or that rookie you're setting out on that path to the podium:
Speed skate boots are stiff and tight
Have reasonable expectations. Speedskates aren't slippers. They're stiff, they're tight and they require a little work to get your foot into the first few times. This is to be expected! They may be snug, but they certainly won't be cozy the first time you put them on, or for the first few weeks as they get broken in. What they shouldn't be are painful, as in "I can't stand in these!" But they're going to feel uncomfortable when you're just starting out in a new pair. But our boots are specially designed to make the perfect fit reveal themselves sooner than you'd expect.

If you're buying starter boots, the ankles and instep should be ridged, like the Cádomotus Agility skates. This is by design to give skaters new to the sport or those struggling with pronation or supination the support they need to learn how to load & shift weight as they stride and glide.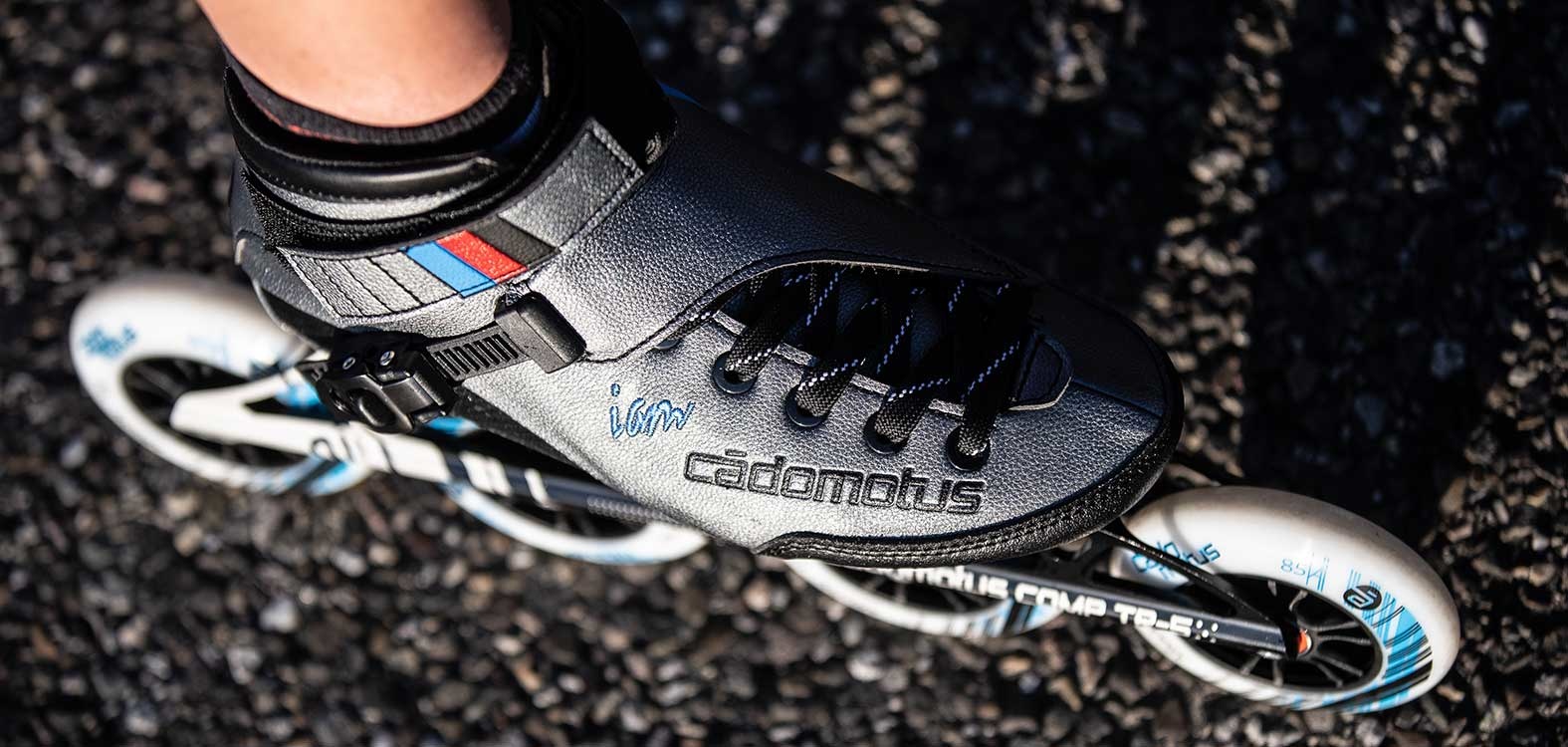 Speed skate boots should fit snug
Your speed boot should fit like a really snug dress shoe. This may or may not be your natural shoe size. Refer to the manufacturer's website for sizing information, or search the website for fit comparisons that exist. Know that most manufacturers will take a boot back that doesn't fit right, which is particularly important for skaters just starting out. Cádomotus boots are designed to run true to your foot, the way you'd expect a quality boot to, and they're backed by our satisfaction guarantee, so you'll always end up happy with your equipment.
No more stress about shoe sizes:
Cádomotus helps you navigate through the maze of shoe sizes, lengths, widths and heights by offering some tips and solutions.
Read more
Choose quality over a low price tag
Look for value
Starter skates are just that – it's where you begin. But as you progress through the sport, your needs will change. A new skater who puts in the time to build up the core and ankle strength they need to handle skating in proper form will eventually want a lower cuff.
Our Versatile skates are designed to be the highest quality entry-level speed skates on the market. Our partners at the National Federations across the world couldn't agree more – the Versatile setup is the place to start for anyone that wants to go into inline speed skating. And with value, you don't want to skimp on quality, because starter skates have excellent resale potential if they're well maintained. A sturdy boot will retain 50 to 65% of its value given just enough TLC!
What people are saying
We've heard from many coaches of beginners that the Cádomotus skates are complementary to early-stage speed skater development. We've heard from those that are going great guns and others that are taking their time to learn the sport at a more leisurely pace, they both have one thing in common: they agree that the Rookie skate is a solid foundation. They're also being used to remediate, to help correct those issues that can derail a future champion before they even begin. Not only that, but the skates win praise for being economical too. Coupled with the innovative Transformer frame – a frame that allows you to try a large wheel 3 wheel set up or a smaller wheel 4 wheel set up – the Rookie, Versatile or Agility skates are truly speed skates to grow with and eventually out of.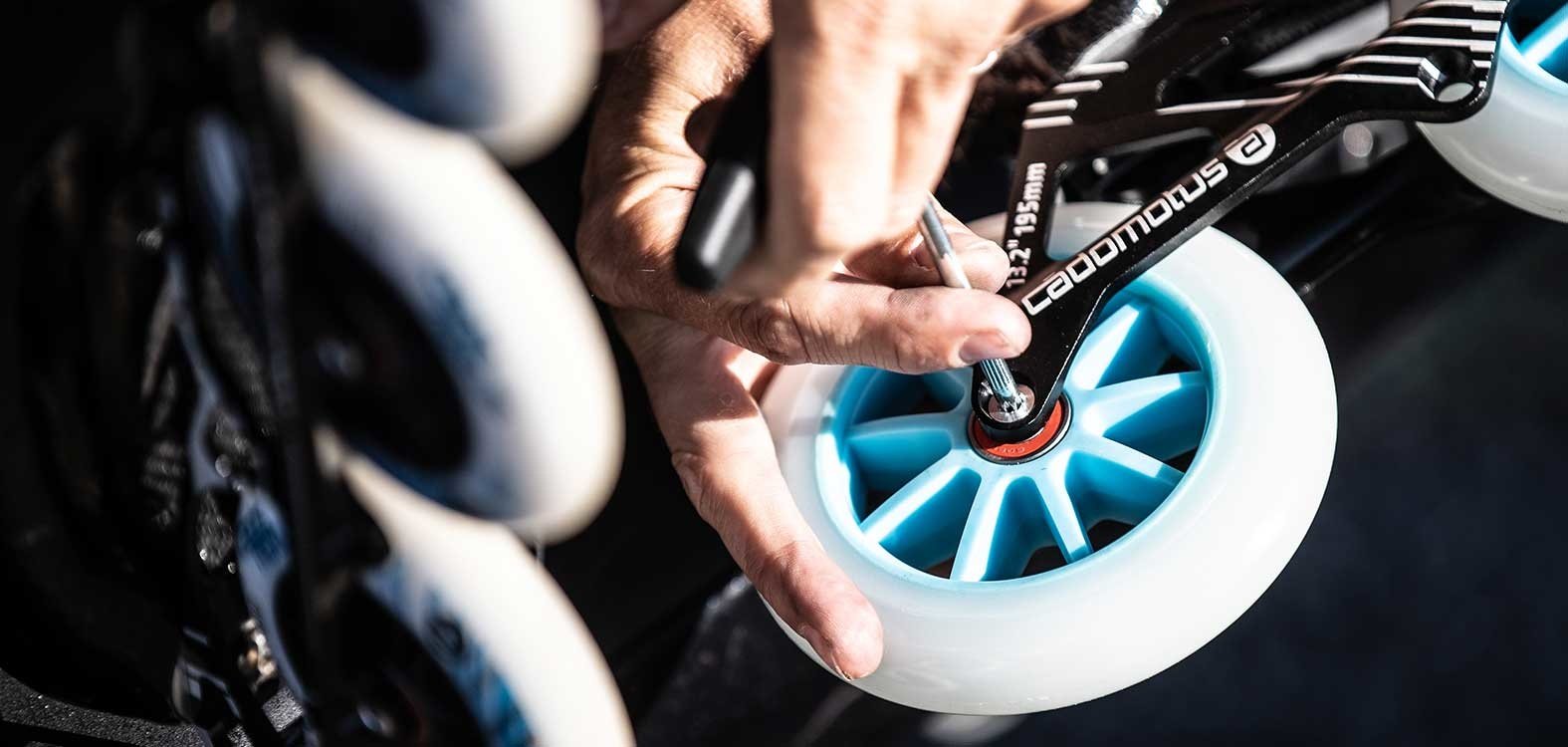 The bottom line
The Versatile skate is sturdy, light, efficient, and effective as an all-around starter skate boot for skaters who need to develop form, agility, and speed. It's budget-minded because it's right-priced, and paired with the Transformer frame, it will save you even more money in the long-term. It's the right choice to grow into the sport if that's your desired outcome for yourself or your skater.