The designers at Cádomotus have been developing inline skates since the mid-nineties, they know what it takes to help kids to improve their skating skills fast and easy.
Everything starts with stability
Are you stable and steady on your skates? If you do, you will gain confidence, overcome your fear and you can challenge yourself by copying the style from more experienced skaters. Shifting your weight to the outside of your skates in the corners, rolling on one leg, slaloming around pylons, turning corners left and right, performing a T-stop.
Inline-skating becomes more fun because you improve every week!
When you bend your ankles and knees, it will get easier.  But you have to use your strength and you will get tired faster. That's why we made two versions of the Cádomotus Rookie: the Rookie One and the Rookie Two. The One has a lower shoe and the Two has a higher shoe. Both have the same sturdy fiberglass boot shell which supports your feet well. The higher shoe offers a bit more support for kids who are not stable yet or still lack a bit of strength. That's why kids who start with the Rookie Two will gain more confidence and will make more progress in a shorter amount of time.
Want to improve your speed? Nothing holds you back with the lower shoe of the Rookie One. Now it comes down to skills, power, and endurance! The Rookie Two is perfect for kids who are a bit more experienced and who want to take their training and performance to the next level.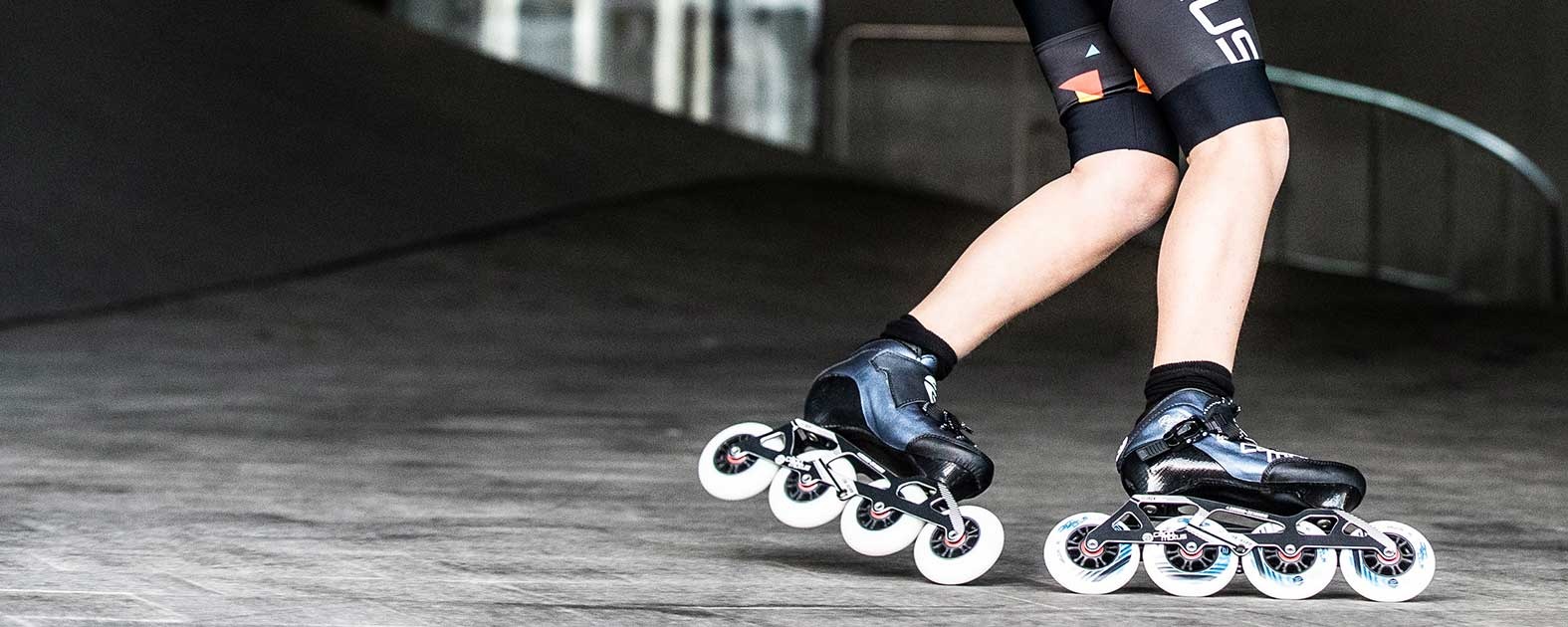 Comfort and design
Both the Rookie One and Two have a comfortable inner liner which will prevent pressure points. Do you have broader or smaller ankles or do you have lumps or bumps on your feet? You can mold your shoes to get a custom fit by heating them with a blow dryer or in the oven. When the shoe is warm, you can make it wider or smaller around the ankles with your hands. The important parts of the shoe are reinforced with a material that gets softer when it's warm, so be careful with lacing your shoes when they are still warm!
You can also visit a Cádomotus dealer who has a special tool to create the right fit. 
The base of the shoe is made of microfiber leather. Athletic shoes are made of the same material: it is flexible, strong, and breathable. Microfiber is available in many different colors and textures, so you can be fashionable. We choose a sporty metallic blue, a color that is popular with girls and boys. You can add your personal touch with the colored Cádomotus wax laces.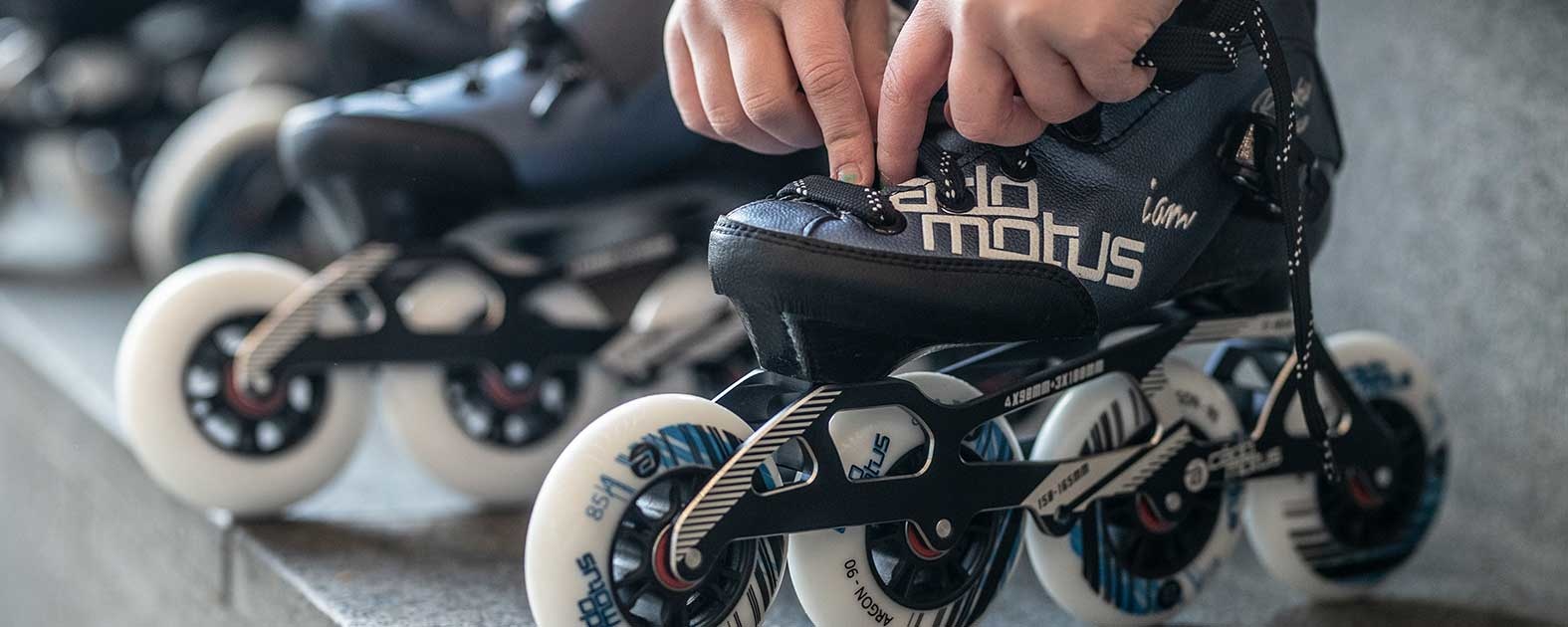 Transformer inline frame?
The frame we used for the Rookie One and Two is not a standard one. It can fit different sized wheels. You can use three or four 84, 90 or 100mm wheels. Cádomotus invented this type of frame and named it  'transformer'.
You can transform your skate from three to four wheels and is meant to help you learn to skate faster. How does that work? Let us explain.
Stability is key
When you start with smaller wheels in your frame, you are lower to the ground, which improves your stability. It is also better to start with three wheels because you're more agile and you can easily move to the left or the right. By repeating steering maneuvers you will learn to switch your weight to the outside of your skate. You have to have guts because it feels a bit unnatural at first. But you can learn it faster when you are lower to the ground. Have you mastered this skill? Then you can switch to four wheels in your Transformer frame. You can go faster with four wheels, but it is important that you can ride on the edges of your skates and know how to steer. You can repeat this step with 90 and 100mm wheels. You need more power to use the bigger wheels, that's why it is more suitable for older kids to use bigger wheels.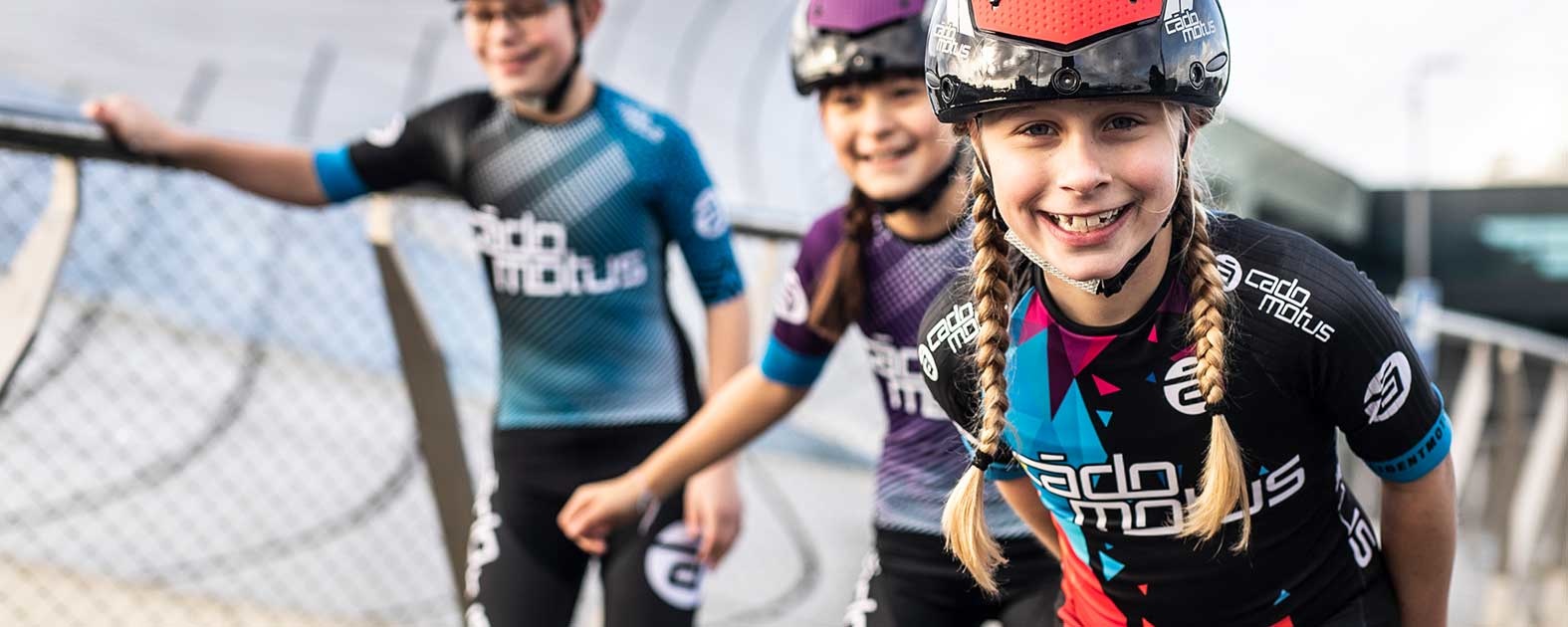 Did you start at a later age? Don't feel pressured and start with the smaller wheels!
Did you rediscover your inline skates during COVID-19 and want to join an inline skate club? Visit a Cádomotus dealer and give the Rookie One or Two a try!