Are you aiming for top results? Our Epic inline skate suits are perfect for (semi) professional athletes. These skin suits combine maximal comfort with a minimum of drag.  But, more importantly: we thoroughly thought about everything. These suits are designed with professional and ambitious skaters in mind, which led to interesting choices. Which ones? We're going to show you.
Are you spending a big part of your day training or racing? Repeating the same movement for hours, keeping pressure on your muscles and staying focused, no matter the weather conditions. When you invest hours and hours to achieve top results, you want to be sure you've done everything you can. Small irritations can turn into big annoyances. You just want to make sure you did everything you could to achieve your potential. For skaters with that mindset, we developed the Epic collection. With our suits, you will get the absolute best out of yourself. 
We've designed the Epic inline skate suits together with Bioracer, exclusively for Cádomotus. It's a tour de force where several technologies, developed for professional sports, come together. You will notice it in our choice of fabric, weight, moisture-wicking features, fit and above all in several practical things. We gave thought to every millimeter of this suit. From a science point of view - hard data about air resistance, moisture-wicking and elasticity - and from the experiences of professionals and ten thousands of kilometers of race experience. This all comes together in one inline skate suit that brings top results within reach for everybody.
Peak performance is about seconds, sometimes tenths or hundredths of seconds. That means that a tiny detail can make a huge difference. That's the philosophy behind the Epic collection. Most important is that you want as little drag as possible and a maximum of comfort. If you're not comfortable you're less likely to reach your full potential. All the choices referring to design were made with that in mind. And it really comes down to the smallest details. Small things that can lead to a big difference on the longer distances. You have to experience it yourself, but we will walk you through all the details of this suit.
Moisture-wicking and light
Our Epic inline skate suit has, of course, a snug fit. The backside is a bit longer than the front, so the fit in the inline skate position is optimal. We've made different choices for different parts of the suit. The top of the body on the back is made of Cool-Lite 100. This fabric is made of breathable material. This will discharge warmth and moisture so your suit doesn't feel damp. The front side of the suit is made of quick-drying and lightweight Tavolara. So when it starts to rain you won't be carrying that moisture with you for kilometers on end.
 The backside of the suit features 3D pockets. There is enough room to store your sports nutrition and water without restricting your movements. The pockets have slanted openings so you can easily access them in your skate position; no need to come upright, or stay upright longer than you want. When you're in your bent position you profit from the sturdy waistband which improves your core stability and helps you maintain this position over long periods. We know from experience that it gets harder when the distances get longer and the kilometers are starting to count.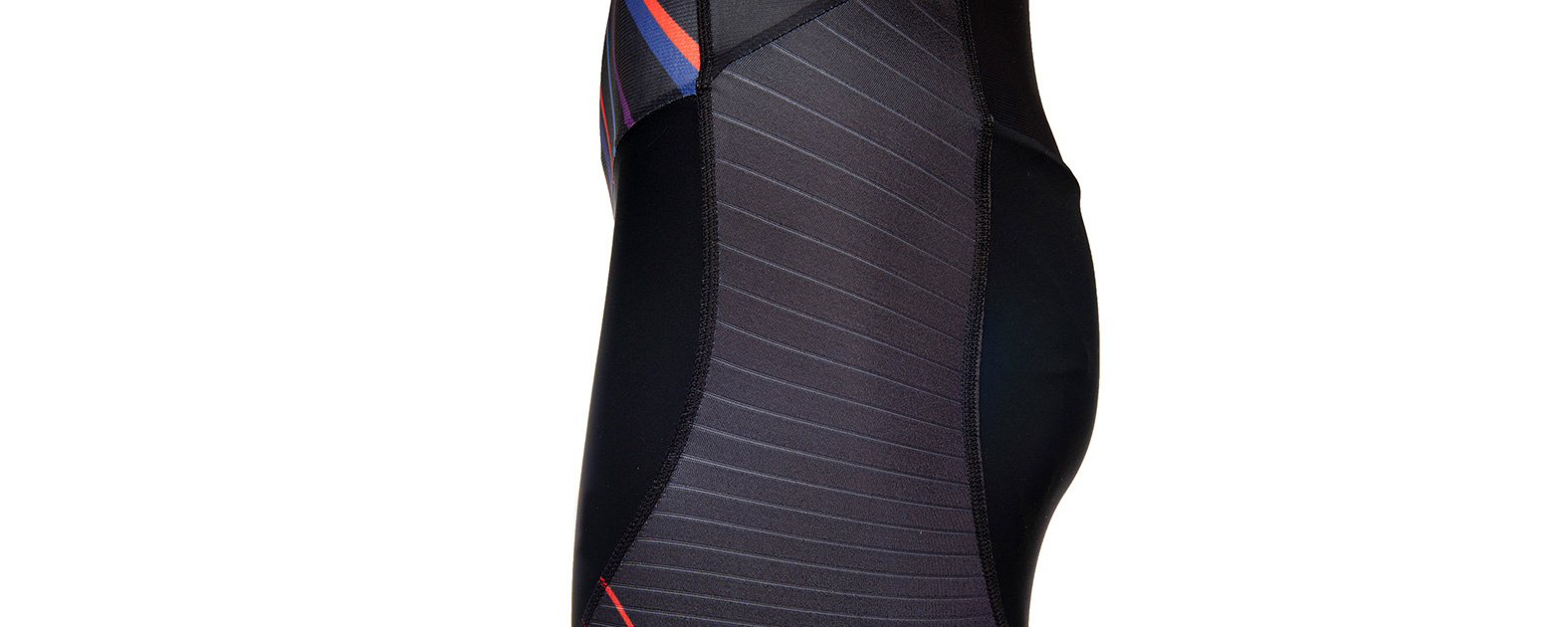 Compression
The legs of the Epic suits are made of seamless Balza Grimpante with gradually increased compression. This means that there is more compression at the bottom to sustain an optimal blood flow. The leg parts are comparable with compression socks that runners use. Blood is pushed upwards which prevents injuries and helps recovery. Just to be clear: you hardly feel it. The effects of the compression do not compromise comfort.
Unique about the leg part is that the colour is not sublimated, like most other sports garments. Instead, we used a uni fabric. Just one fabric. The texture isn't applied to a white background, so when you stretch out the fabric the colour doesn't change. Even if you stretch it out a little bit the colour doesn't fade. 
Aerodynamic
Several materials come together in the arm pieces as well. The downside, the armpits included, is made of Balza Grimpante lite. This is the lighter version of the material we used in the leg parts. This material is a bit more breathable. The upper part of the arms is made of Air stripe lycra. We made this choice mainly because this fabric is aerodynamic and reduces the drag on the shoulders and upper arms to an absolute minimum.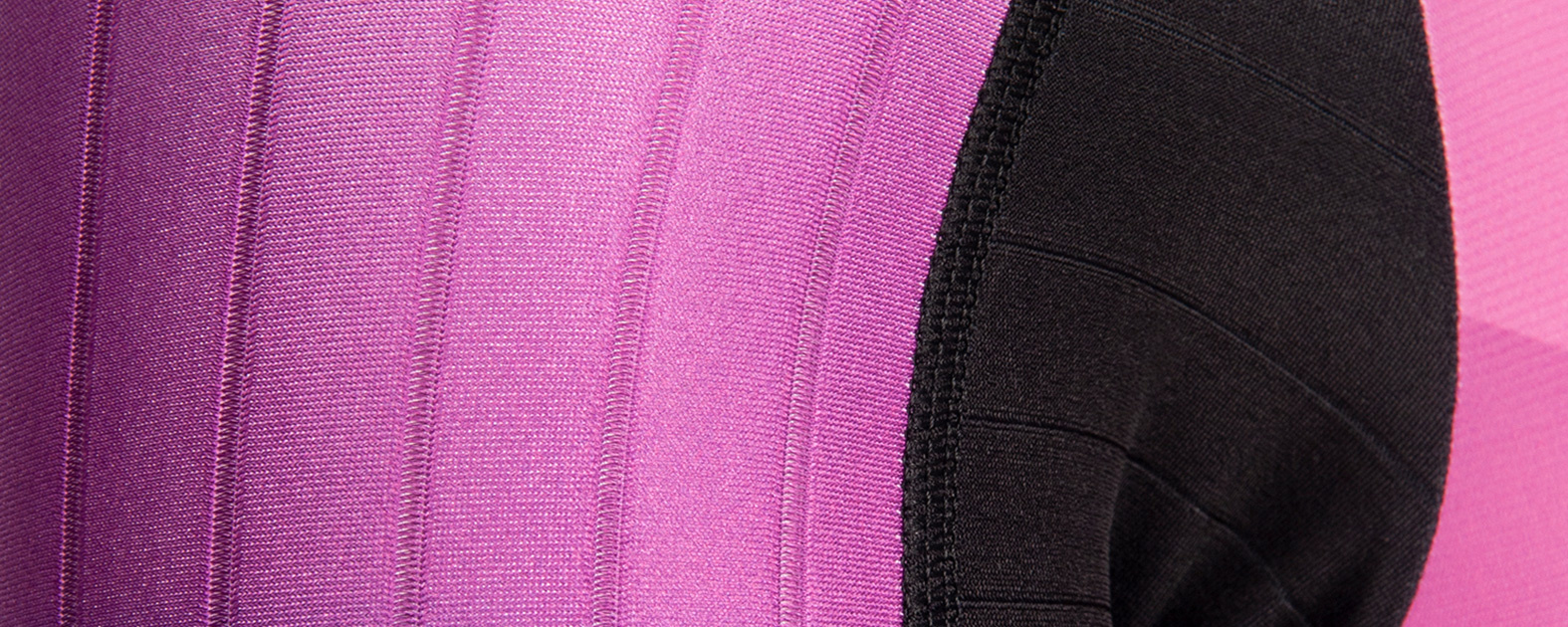 Innovative details
The Epic inline skate suit features many small innovations which can make a difference on longer distances and for peak performances. The flatlock seaming, for example, prevents irritation, or the zipper garage which prevents irritations in the neck.
Are you convinced that an Epic inline skate suit adds to your performance and comfort? Don't leave it up to chance and choose the rest of your equipment with care. You likely already have professional inline skates and an aerodynamic helmet. But if you're looking for something new and want to up your game, you can combine your new suit with our top-quality inline skates and aerodynamic helmet. It's an investment for the long term because everything - from maintenance to spare parts - you can find here at Cádomotus.   
Epic skin suits feel comfortable right from the start. You only have to choose the right size to guarantee optimal comfort. Don't worry about other details. Like we said before, we thought about everything. These suits are designed with the input of professional athletes. The result is both a reflection of hard science like aerodynamics and practical experiences. What causes professional athletes discomfort after hours of skating? What causes irritation? What will hold them back to perform the best they can? These experiences, as well as the science behind them, can help ambitious amateur athletes profit as well.
Cádomotus inline skate suits
Do you think this is something you are looking for? Go ahead and order one yourself. Our suits are available in six different colors because appearance is important too. Don't like the fit, or did you other the wrong size? You can return or exchange your suit within 14 days of purchase (in its original state and package). This way you can be sure that your aerodynamic suit fits like a second skin. Kilometer after kilometer, no matter the circumstances.