Those packing days where it seems like there's not coming an end to your packing list and you have more things to take with you than what's left in your closet. Before a triathlon race you definitely need to take the time to double-check, or even double-double-check. You just can't afford it to arrive at a race realizing you forgot your wetsuit, race band of running shoes.
From start to finish
When packing for a triathlon race the best you can do is just visualize the whole race and think about what you need for it. Do you go the race by car, bus, train or plane? It's always handy to take your passport and wallet for sure, but when you travel by plane it's necessary that you also got your boarding pass printed, got the right weights for your (bike) bag or suitcase and last but not least: be sure that you got all your hand luggage with you. That's also something you can think about when you go to the race by car. An extra bag with food for on the road and your bike computer, watch and wallet is definitely a way to ensure you've packed everything (1). If you don't bring an extra bag, all of the bags from Cadomotus have the opportunity to get the stuff in a smaller pocket on the outside of the bag. Think about using these pockets for your passport, triathlon-licence, race band or multisport watch.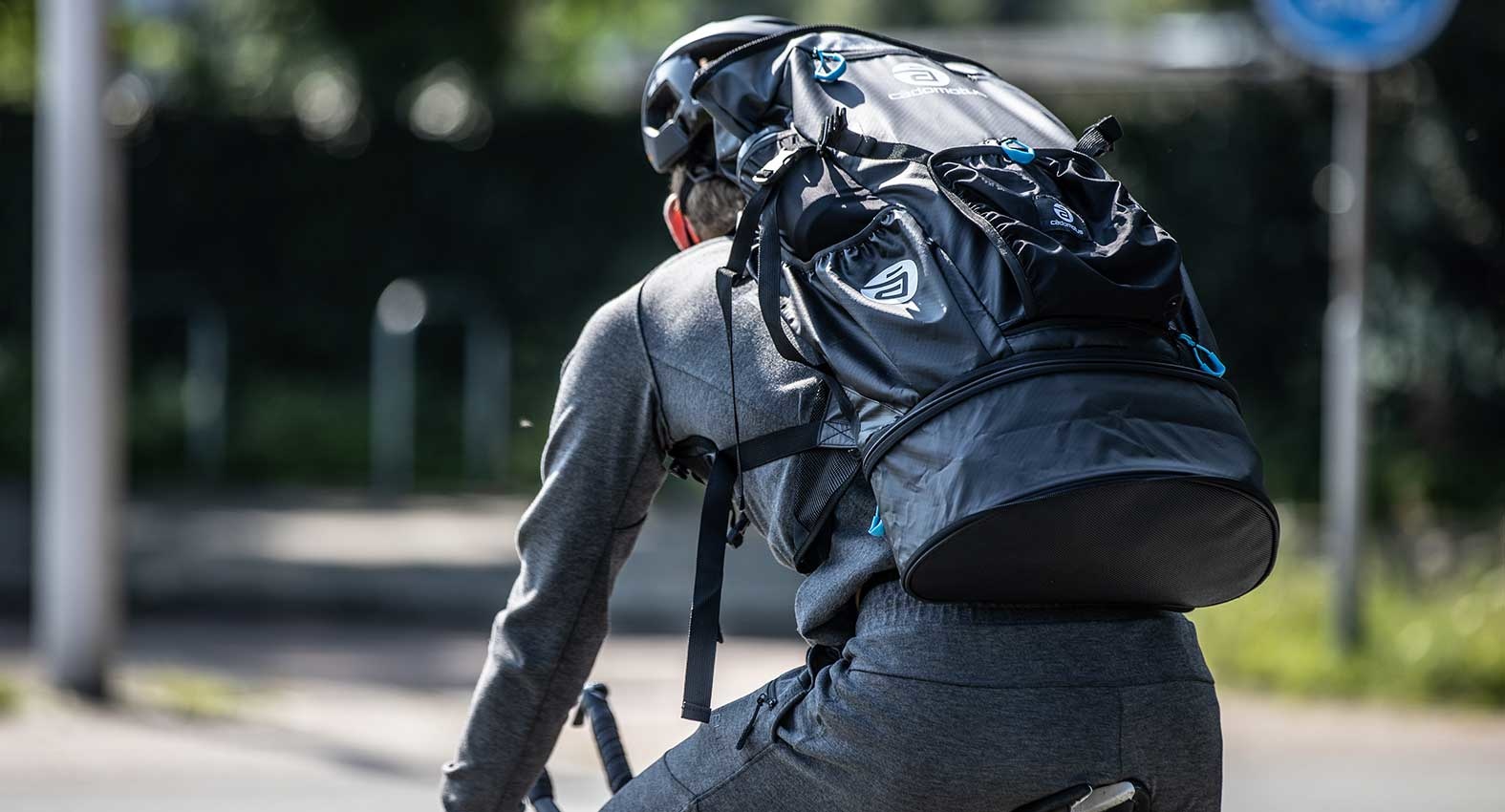 Then you visualize that you have arrived at the race; what do you need from then on? Maybe you are already wearing your trisuit; then you don't need to bring that with you of course, but perhaps you want to take a second one with you in case of an emergency (2)? Next to wearing your trisuit or changing clothes just in time before the race starts you can choose to wear some joggers or a jacket which you can quickly get rid of when you want to do your warm-up or head to the start of the race.
By arriving at the race area you need to get your transition ready. It doesn't really matter if it's a long or short distance race: you always need at least one pair of shoes next to your bike: running shoes, and a helmet. Thereby the pros use the lips behind their triathlon bike shoes to get them all ready to step in them on the bike itself. If this works for you, then never forget to bring elastic bands(3)! Depending on the race you probably need to bring your own race band and pin your start number on it. Get the race band ready in the transition so you don't forget it when you come to your bike after the swim. All of the things that you need in the transition: get these things in an apart pocket in your bag. So, elastic bands, an extra pair of speed laces, and maybe some talcum powder(4) for in your bike and run shoes.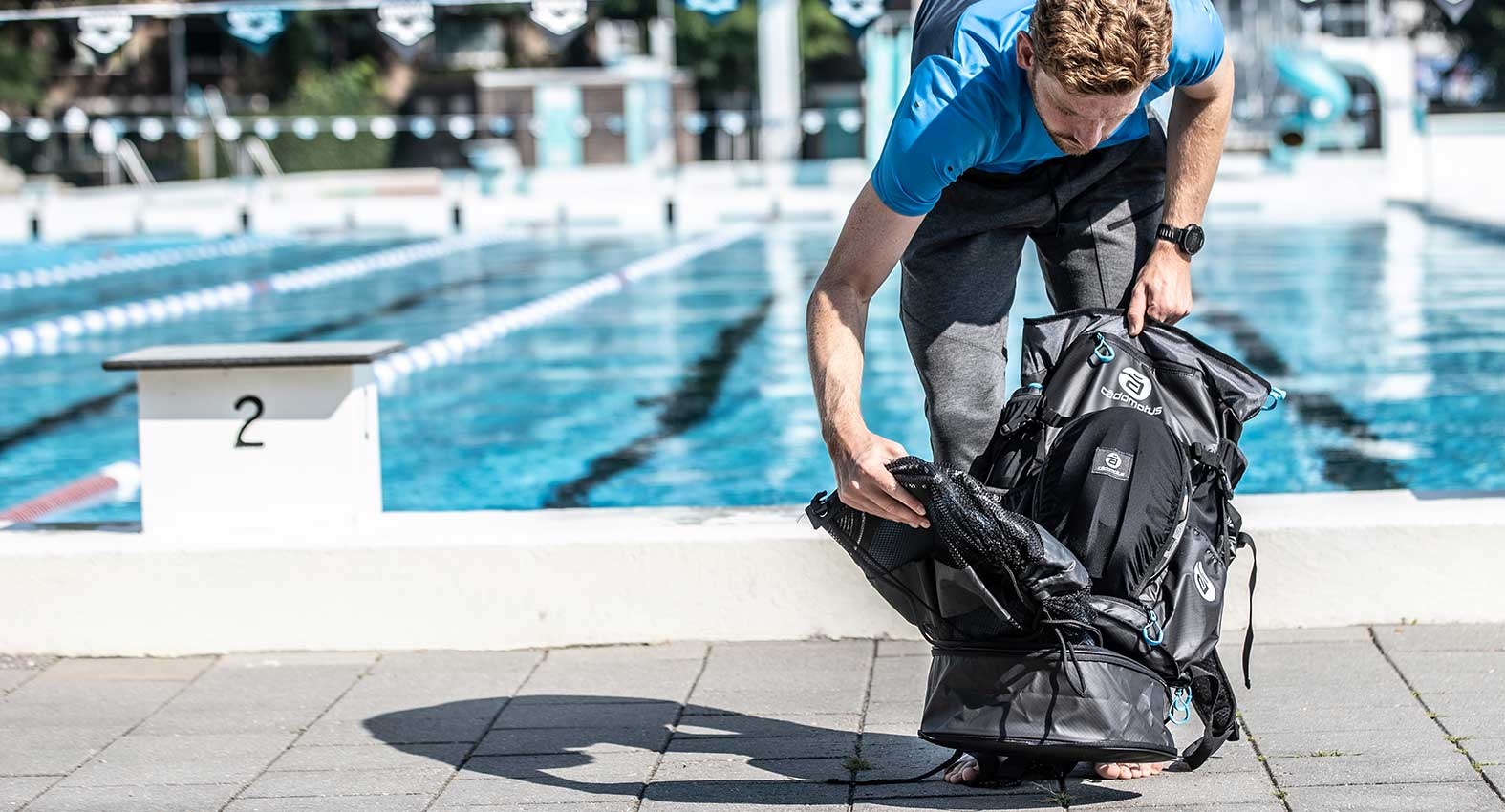 But, in between the start and the first transition, there's still a warm-up and maybe a short swim that has to be done. After preparing for your transition be sure to have a place for your bag so you can do your warming-up in the right clothes without wearing your bag with you. Get your swim cap, goggles and eventually your wetsuit or speedsuit (for the long-distance athletes among us) ready for the swim and have them at a place where you can get them easily. After your warm-up you get ready on time, put your wetsuit on (if it's allowed) and get your cap and goggles ready. You'll get lined up and you're ready to race!
After the swim, you run to your transition where you need to have your helmet and bike shoes ready. For those without bike shoes, put on your run shoes and you'll have one of the fastest second transitions for sure. Get your race number on and you can run to the mount line. If it's a long race and you've trained with getting enough gels or bars(5), have them ready on your bike with elastic bands or some tape. The most important: be sure you can't lose them during the ride! Also, be sure to bring one or two drink bottles with you.
When you come back in the transition after the bike part, you'll search the place where your running shoes are waiting for you. Maybe there's an extra pair of sunglasses for the run because you'd used your visor from the Omega helmet on the bike... Then, get your shoes on, turn the race band to the backside and you're ready to start the last part of your race; the run!
After finishing your race you probably don't like to travel in your trisuit (wet and sweaty..). All of your wet shoes, wetsuit and trisuit you can pack easily in the race day bag and trolley of Cadomotus. You don't have to be afraid that the other clothes will get wet. You'll be able to change clothes after the race and then head home with that finisher medal. Nothing more, nothing less!
Checklist
An additional bag with your bike computer, sports watch, and wallet, plus food for you during your travel.
A spare trisuit in case of an emergency, like if you break a seam or the zipper
Rubber bands to fix your bike shoes in the right position for a flying mount
Talcum powder in your bike and running shoes, to help slip in and reduce the chance of rubbing
Extra nutrition to take during the race, and tape to fix the gels onto the bike frame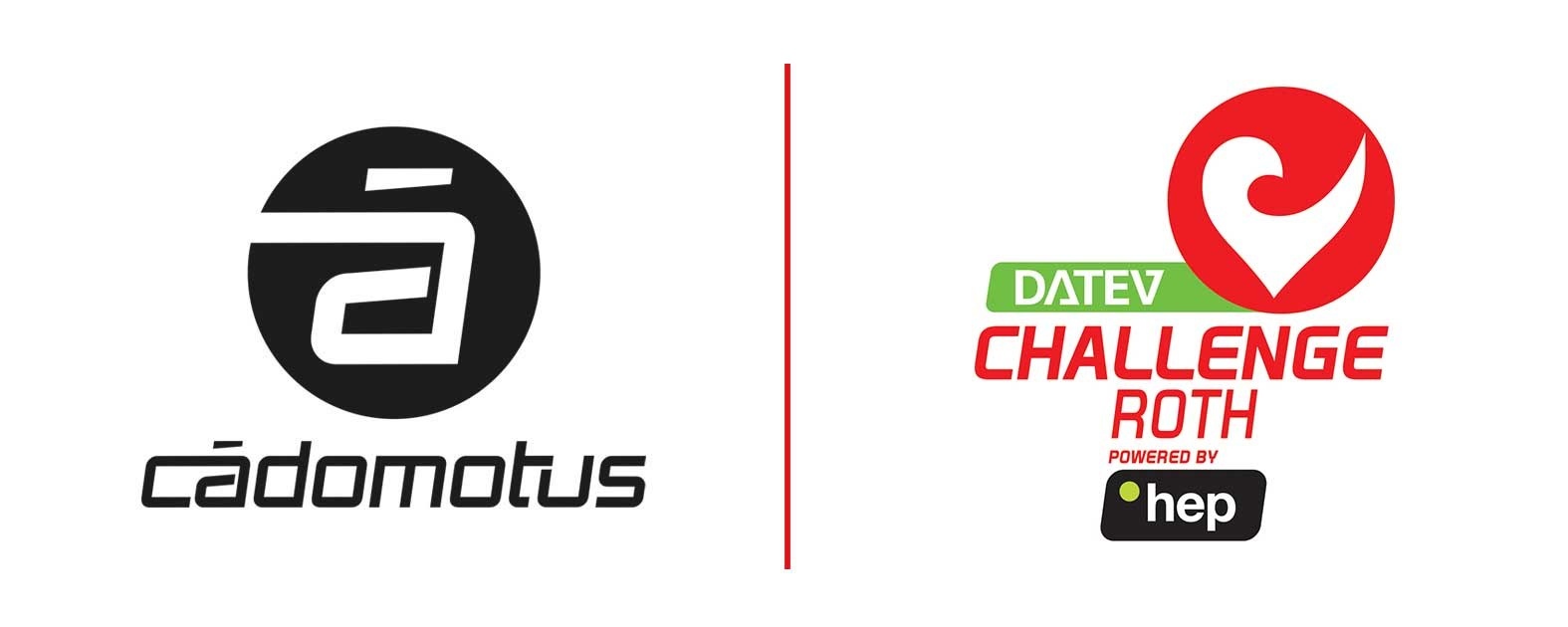 Cadomotus is official bag and backpack partner of the DATEV Challenge Roth powered by hep