Add your review
Alpha-2 Aero helmet for shorttrack in your team colours!
Real-Time Stock
Worldwide delivery
100-Day Return & Refund guarantee
Customer Reviews: Excellent 9/10
Description
| | | | |
| --- | --- | --- | --- |
| Ordered Quantity | 5-9 | 10-19 | 20+ |
| Alpha Aero helmet price | €119.50 | €119.50 | €119.50 |
| Design template costs for extra logo's | €22.50 | €11.25 | - |
| Alpha black with sponsor logo's | €142.00 | €130.75 | €119.50 |
| Sonic Aero shield in a matching color | €24.50 | €24.50 | €24.50 |
| Alpha in team color and sponsor logo's | €166.50 | €155.25 | €144.00 |
| A2 lens with UV filter | €39.50 | €39.50 | €39.50 |
| Aero package for sponsored teams and clubs | €206.00 | €194.75 | €183.50 |
The Alpha speedskating aero helmet has been further developed. It is now even safer, has a better fit, and remains the ultimate skating helmet setting a high standard for short track or marathon.
With the Alpha-2 Aerospeed aero helmet, we introduce the successor of the very first speedskating specific helmet for long distances in the world, the Cádomotus Alpha. The Alpha-2 is safer, fits even better, and remains the skating helmet that sets the standard.
The introduction of the Alpha helmet in 2015, ran in sync with the call for more safety in marathon skating as well as in the mass-start for long track speed skating. It was the beginning of a revolution. The skating helmet has now become a part of the ice rink and many recreational and experienced ice lovers make use of it. Just like in the cycling and inline skating community, ice skaters have begun to transition to always wearing a helmet when skating.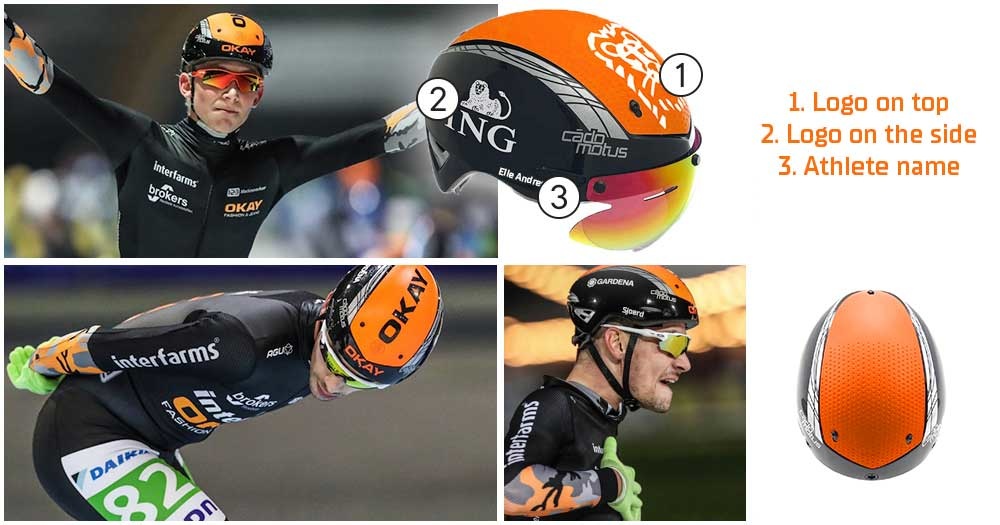 What's new with the Alpha-2?
The Alpha-2 skate helmet has been further developed:
* We have designed the back of the helmet to be rounder
* It is more aerodynamic and fashionable
* The rounder shape provides more protection for the back of the head
* Available in two sizes: S/M (54-57cm) and M/L (58-62cm)
* Similar to our top model, the Omega, you can easily click a visor on the helmet with magnets
* If you do not want a visor for your eyes, it will click right onto your helmet
* The larger ventilation openings in the back of the helmet have been replaced by several small ventilation slots
* By doing this, it offers more protection for falls in skating
Not changed:
* Still very light and comfortable in terms of fit
Make the helmet yours with a customizable aeroshield
You can make this skate helmet completely yours by adding an aeroshield in your favorite color, which you can easily attach to your helmet and give yourself an aerodynamic advantage. With the colored shields you can match your friends, show your personality, represent your teams/club colors and so much more!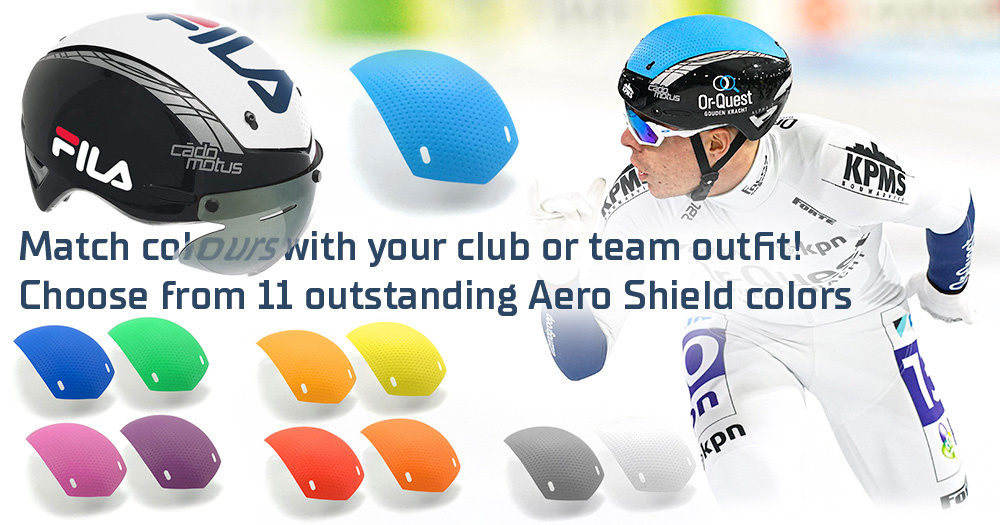 Officially approved helmet
This is still one of the few officially approved skating helmets by the ISU. According to the rules, the helmet must follow the shape of the head and there must be no protrusions on the helmet. At the same time, it must comply with an impact test for short-track helmets. Virtually all bicycle helmets are therefore unsuitable for marathon skating. The Alpha-2 aero helmet is also suitable as a short track helmet.
Crash replacement
If you register with Cádomotus Crash Replacement, you will receive a 50% discount on a new helmet after a crash. Has your helmet caught a fall? Make sure that the construction of your helmet is not damaged and that there are no noticeable cracks. Unfortunately, because it is often not visible, if you know you have had a hard crash and hit your head you should always replace your helmet.
Register here for the crash replacement arrangement
Specifications
| | |
| --- | --- |
| Approved For Racing | ISU speedskating |
| Integrated Visor | Yes | Magnetic snap-on/off |
| Aeroshield Option | Yes |
| Ventilation | Internal Channeling, Over-brow Ventilation |
| Bug Shield | No |
| Fit System | Dial-Ratchet Lock, Vertical Adjustment |
| Buckle | Standard buckle clip |
| Construction | Inmold EPC/PC |
| Liner | Dual thickness | 3-piece |
| Washable liner | Yes |
| Certification | CE, ASTM F-1849 |
| Windtunnel Tested | Yes |
0
stars based on
0
reviews